Activity Report from Vietnam Vol.07
(2019 April - June)

from Pham Huong & Ngo Dung
The 30th Anniversary !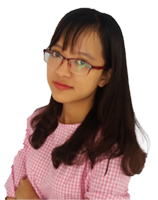 The 30th anniversary of Quang Binh Provincial Reunification Day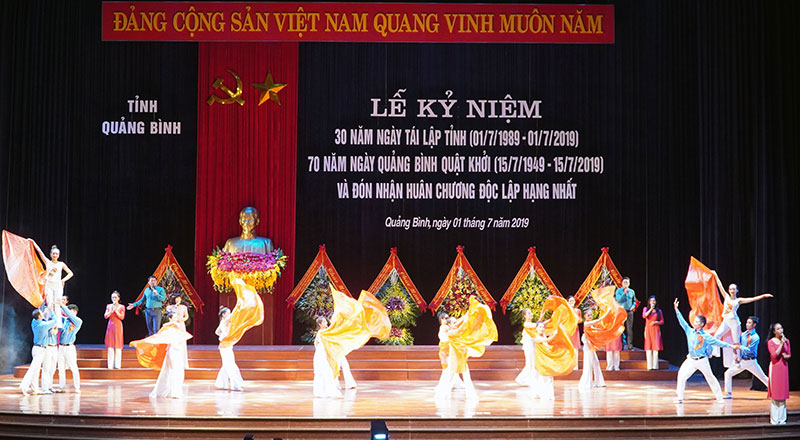 Art performance in Dong Hoi, Quang Binh
From the last week of June to the end of July, various events have been held in Quang Binh province to celebrate the 30th anniversary of provincial Reunification Day on 1st July, 2019. The whole province focused on major activities such as propaganda of historical and cultural traditions as well as contributions of Quang Binh province in the struggle for national liberation. It exhibitions on outstanding socio-economic achievements in 30 years of innovation and development of the province, and introduces other festivals such as Art performance, Quang Binh Cave Festival and trade fair. This occasion is also an opportunity to educate, raise awareness, and raise the pride of people in the province about the achievements, historical, cultural and traditional values.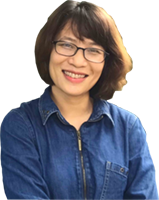 Our Last 3 Months
Capacity building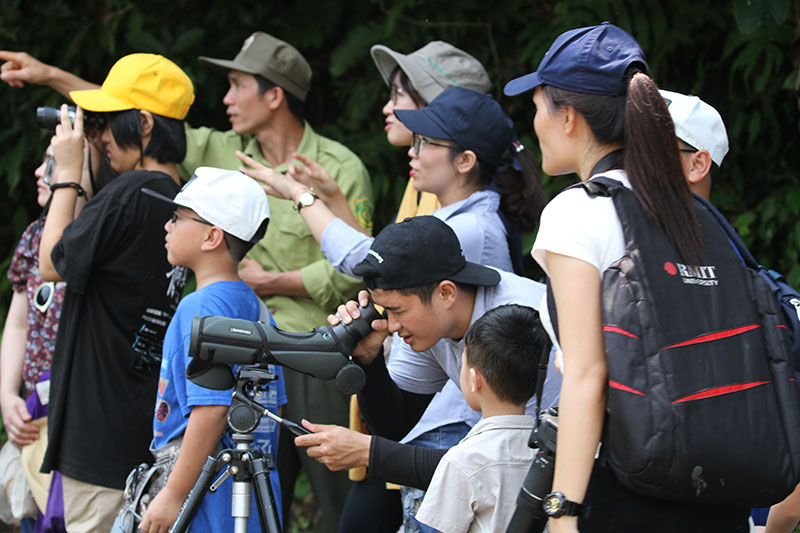 Instructions for using telescope to observe red shanked douc langur
We held a "Red-shanked douc langur watching" trip to Khe Nuoc Trong KBA with 35 participants including Viet Nature staff, kids and their parents from Dong Hoi city in early April. The participants were introduced about Truong Son KBA and key species in the area. They had an opportunity to observe red-shanked douc langurs and discover the landscape and beauty of Khe Nuoc Trong forest. During the trip, the kids were really excited when they managed to use binoculars and telescope to watch the langurs. Through this trip, we aimed to culture the love towards wild animals for the urban kids and their parents.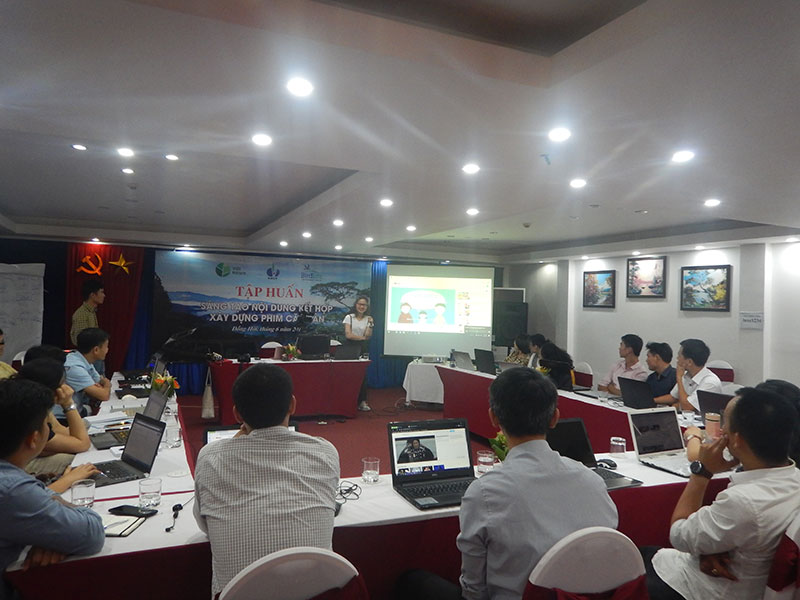 Training course for basic film making
We organized a 3 day-training course on video making skills with 18 participants from the target schools, Dong Chau-Khe Nuoc Trong Management Board and Viet Nature in early June. The aims of the training course was to provide school teachers and young staff with basic film/video clips making skills so that they can produce or develop a nature documentary video film/clip by themselves. Besides useful knowledge for building film contents up, we have learnt about the techniques to make a video clips or a short film.
Environmental Education Club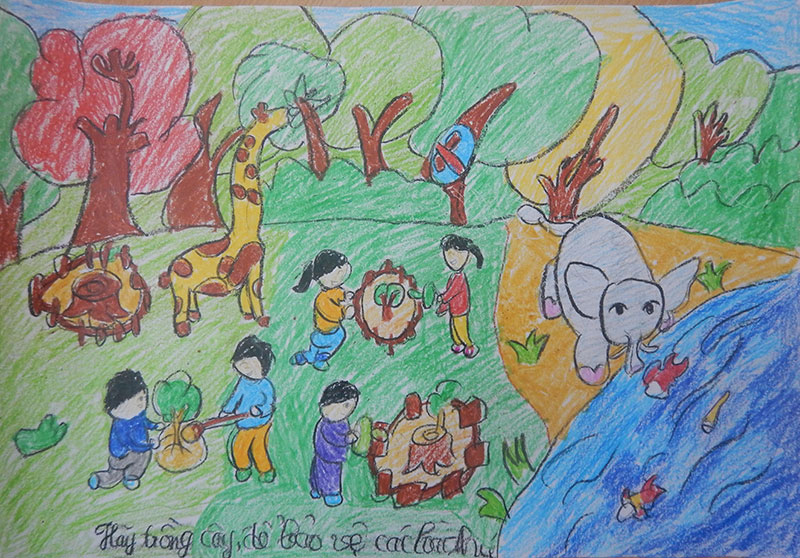 A student from Vinh O Primary School draw
a picture of "Plant more tree to protect animals"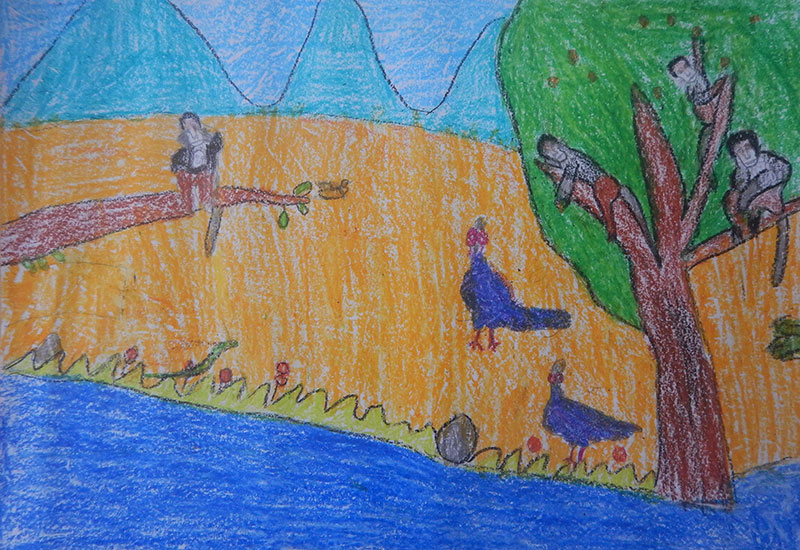 The other student from Huong Lap Primary School draw a picture
We organized the drawing competition under the theme of "Forest of My hometown" at five target schools through EE clubs in late April. There were five cooperative prizes awarded to the schools. But more importantly, through this event, school children hope to convey messages of environmental protection to the community and wish a green planet for the world.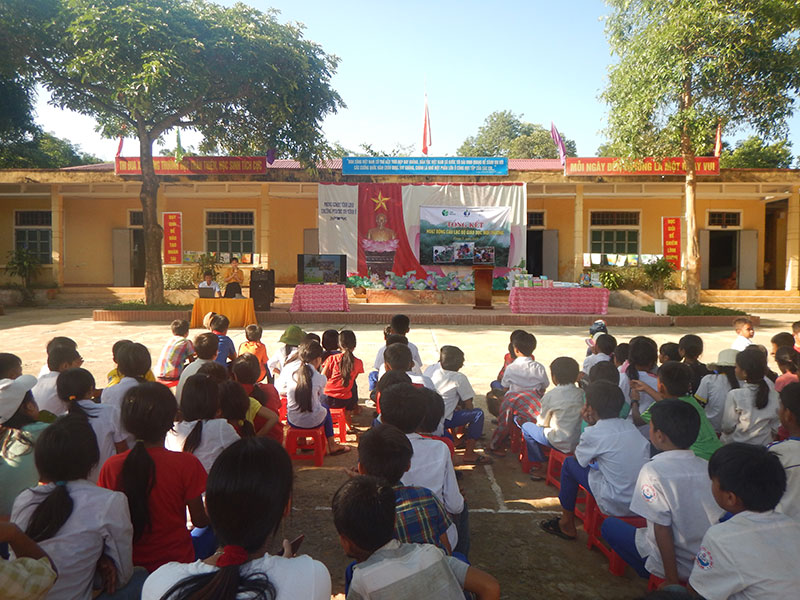 Summary of club activities at Vinh O school
Summary meetings were held in mid-May at 5 schools. In total, approximately 1,240 participants (including students and their parents, teachers) attended these meetings. During the meetings, all knowledge of five themes were summarized for the participants, a game named "Life network" was played and video clips made by each club was shown to the other students. Overall, the students understood more about natural environment protection, basically they changed their behaviors, and gradually get involved in activities to preserve the nature. For example, they began to deny using plastic bags and advised their parents not to eat wild animals. We also delivered 340 environmental books to added to their libraries collections and be used as a helpful reference sources.
Awareness Raising Materials
We have concentrated on producing a documentary film and a scientific film about the Truong Son KBA species and forest instead of producing cartoon videos between March and May. By the end of May, the two films were made. We hope these films are going to be used as educational and awareness raising tools during any events and/or at extra-lessons at schools. Also, we have developed the content of poster, banner and leaflet that can be used in exhibitions or awareness raising events. These materials will be designed in different sizes containing various information linked to biodiversity and conservation.
Environmental Education material
We focused on finalizing the design of the EE material. The sample of material was sent to the publishing house for the permit, and we have received the decision for publishing the material at the end of June.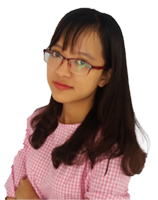 Our Next 3 months
The EE material will be printed out by mid-July, then we will deliver it to 5 target schools for their new school year in early September. Before hand, we are going to copy all related soft material such as pictures, films and hand-out into USB disks which will also be provided to the school teachers as reference sources. We will attend a number of teaching lessons after providing the material to evaluate its effectiveness.
The second Red-shanked douc langur watching trip for urban children and their parents will be organized by mid-July. We hope to have a number of posters, banners and leaflets ready for an exhibition of wild animal protection planned to be held by the end of July in Dong Hoi city.
We will continue doing activities relating to the EE clubs such as developing the content for competitions on wild animal protection for school children when they come back to the new school year, pushing the clubs to do some environmental protection activities such as cleaning-up, animal protection propagandas, tree planting in their schools and living areas. We hope that, with such activities, awareness and behavior of school children are raised and changed in a better way.