Activity Report from Cambodia Vol.04
(2018 July - September)

from Sok Lyan , Ly Samphors , Bou Vorsak , Om Sophana
Our project site AP & BPL
Our projects have been implemented on two protect landscapes, Boeung Prek Lapouv (BPL) and Anlung Pring (AP). We introduce our project sites in this report.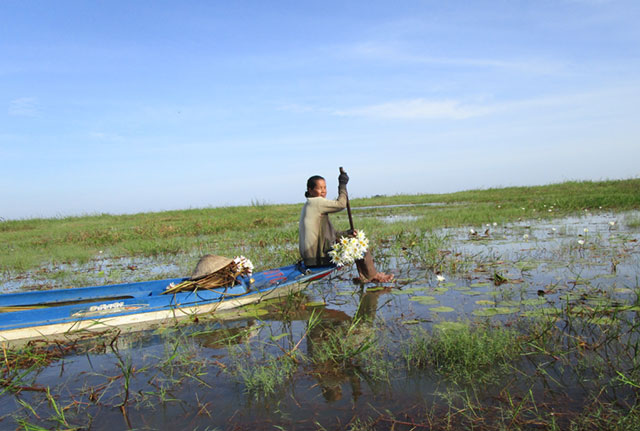 Boeung Prek Lapouv (BPL)
BPL is rich in resources including foods (eels, snakes, plants, snails and crabs), fuel (firewood) and water. These services derived from BPL are utilised by 15 villages from six communes of two districts. Many Sarus Cranes also come after those rich resources in winter.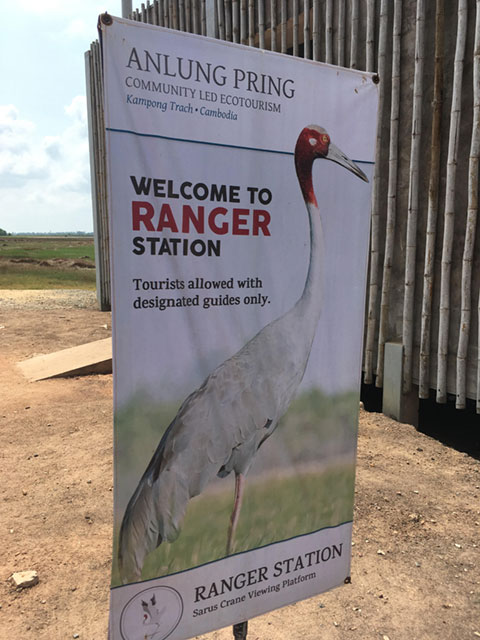 Anlung Pring (AP)
Similarly to BPL, AP is abundant in natural resources. In addition, multi-stakeholders such as local people and NGOs, Ministry of Environment have been working in cooperation on conservation of Sarus Crane. Particularly in AP, Anlung Pring Sarus Crane Conservation and Development Comunity, which was established for achieving both conservation of Sarus crane and improvement of livelihood, has been working on promotion of homestay and nature guide as well as development of souvenirs.
Challenge in BPL and AP
Over fishing, land consumption and agricultural pesticides by local people have caused unsustainable and imbalanced ecosystem, and have been the main threats to the Sarus Cranes.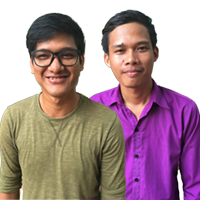 Activities by Birdlife Cambodia Programme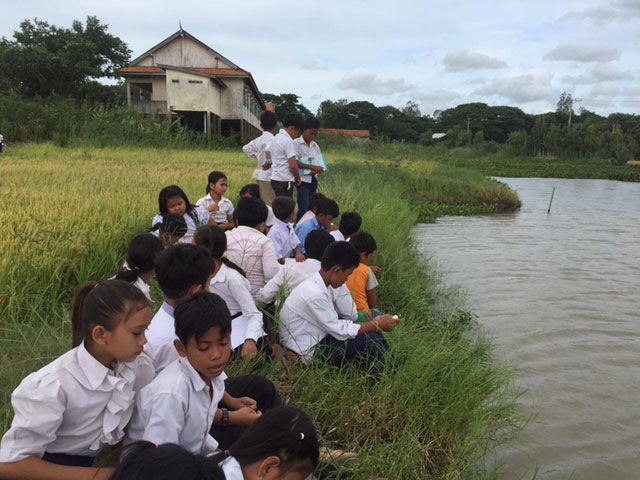 Last 3 months
Environmental Education Program
July and August were the last two months before all the primary-school students had a vacation. The project team discussed with teachers in Kdol Chhrum and Songkum Meanchey primary school about their teaching progression. Teachers were also required to complete the evaluated form after they finished teaching each lesson.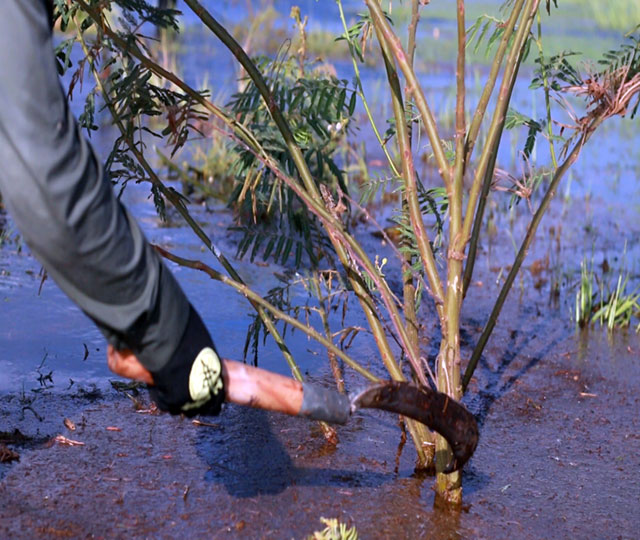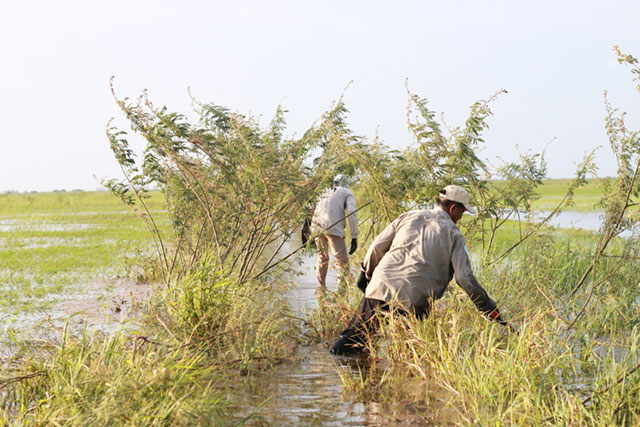 Invasive Species Control
Training and field practice for two university students from urban area to control the invasive species, Giant Mimosa Pigra, were organized in early August in the Beoung Prek Lapouv protected landscape (BPL). Theory training was organized in Phnom Penh while field practice was done in BPL. After finishing the training, the students understood clearly about the negative impacts of this invasive species and method to control. Moreover, these students have gained work experiences with local community, government and NGOs. To spread the knowledge in controlling the invasive species, a short demonstration film was taken.
Sarus Crane Film
The second Sarus Crane Film Premiere was organized in Siem Reap province on 20th July, 2018. It was organized by our partner Fauna in Focus. The objective of this premiere is to promote the vulnerable Sarus Crane conservation and environmental education to the public. It was a fund raising opportunity for Fauna in Focus to conduct environmental education and awareness raising activities in the future.
Showing Sarus Crane film of wetland ecology and Sarus Crane conservation, was organized at Kdol Chhrum Primary school on 7 July. Around 70 kids jointed and they were excited by this film. Environmental education film is a useful tool to promote conservation wetland environment and the ecosystem value of the wetland, and awareness raising of habitat loss to the local communities.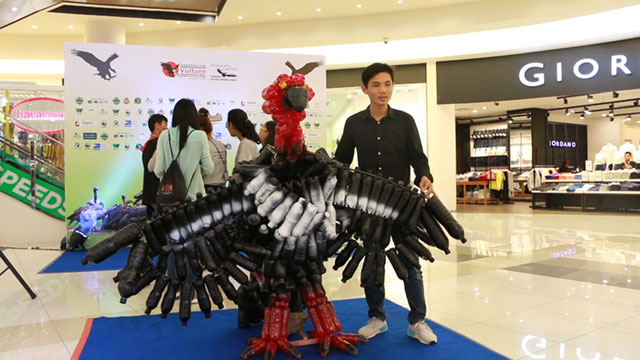 Awareness Raising Program
A protocol to implement the community based agriculture hazardous waste management in Anlung Pring Protected landscape (AP) was developed based on a meeting with village leaders, commune council's members and commune chief.
1st September is International Vulture Awareness Day. This year big vulture event was organized at Aeon Mall- Phnom Penh on 7 September 2018 with at least 250 participants. 12 university students were on job training to involve in presenting the exhibited photos, leading Q&A section, being as MC of vulture talking event, kids drawing and painting etc.
Next 3 months
Middle of October 2018, the schools start new semester. We need to work with teachers to develop a teaching plan for the semester, and organize refresher training based on the teaching evaluation analysis. We will also invite teachers from both schools (Songkum Meanchey and Kdol Chhrum Primary school) to visit a primary school in AP to exchange teaching method and experiences. This study trip is organized as teachers requested to learn directly from experienced teachers in AP. The Sarus Crane film screening will be organized at local schools and communities.
Moreover, the short demonstration film about controlling the invasive species will be finalized with English subtitle and description in Khmer. The film will broadcast on BirdLife Cambodia facebook page and sharing with students. A protocol for the community based agriculture hazardous waste management in AP will be finalized and start implementing accordingly.

Activities by Mlup Baitong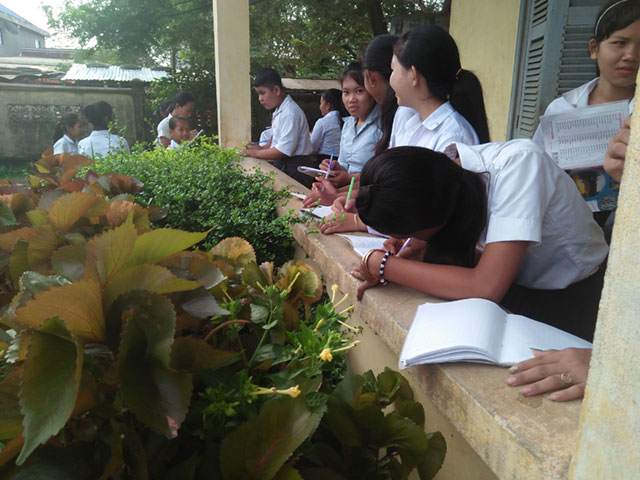 Last 3 months
The working group conducted tryout of 10 draft environment lessons and teacher's guide for junior secondary school students, after which they revise these lessons based on the student and working group's comments. Finally, the final draft textbooks and teacher's guides were produced.
The project supported the primary school teachers to organize meetings in order to discuss eco-club guideline. Some eco-club ideas/concepts have been drafted for next discussion/meetings.
We conducted for baseline data collection on the attitude pre-surveys at the target schools which consist of teachers, students and community representative.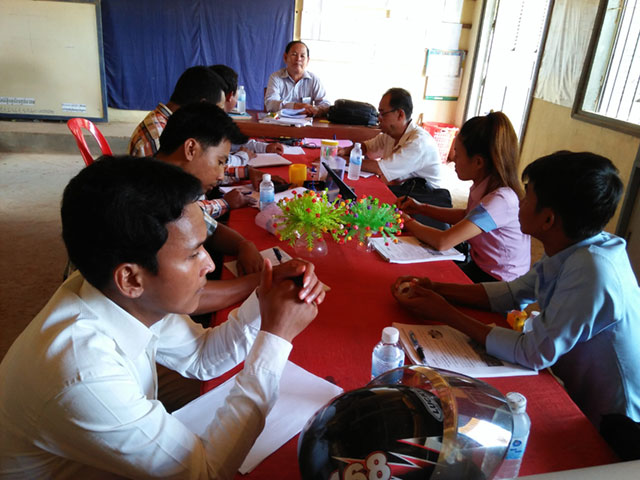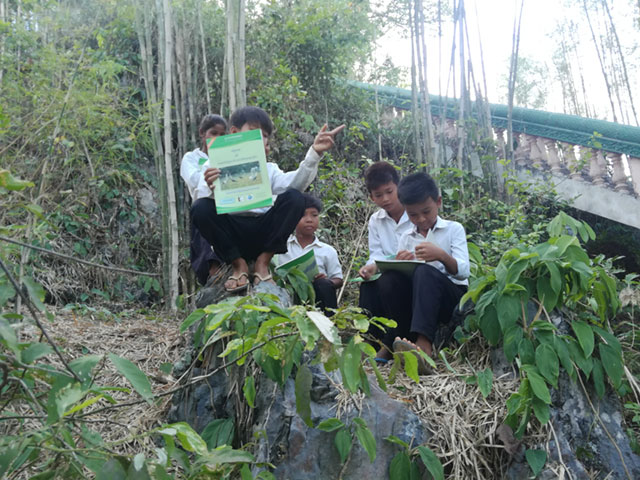 Next 3 months
• Organize a study tour for a number of the involved students and teachers to visit Anlong Pring (Sarus Crane) site.
• Produce (print/reprint) the environmental training materials and guidelines.
• Support the target schools to establish the Eco- Schools (According to the eco-school guideline).