Activity Report from Cambodia Vol.01
(23/03/2018)

from Sok Lyan , Ly Samphors , Bou Vorsak , Om Sophana
The Sarus Cranes are back again!

About the Sarus Crane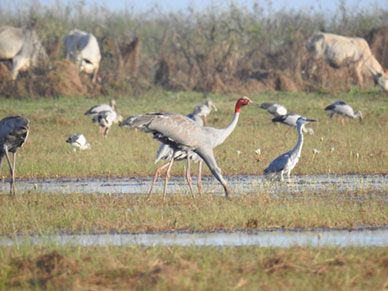 Have you ever seen a Sarus Crane?
We carry out our projects in Boeng Prek Lapouv (BPL), Koh Andeth district, Takeo province and Anlung Pring (AP), Kampong Trach district, Kampot province, Cambodia. These places are important habitats to support non-breeding season of Sarus Crane. Every year, the Sarus Cranes fly back to BPL between November and February, and to AP between December and May. Though fewer in number than usual, Sarus Cranes are back again this year!
Sarus Crane is classified as "Vulnerable" in the Red Data Book of IUCN. They are still threatened by human activities such as over use of agro-chemicals in rice fields around these important habitats. To prevent extinction of Sarus Crane, we have been preserving the habitats of the species and promoting public awareness by environmental education through the project.

Activities by Birdlife Cambodia Programme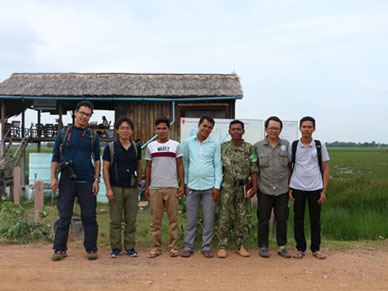 Last 3 months
Birdlife Cambodia Programme has recruited two local university students (Lyan Sok and Samphors Ly) as junior staff since November, 2017. We will train them through the activities in the project. During the past few months, together with junior staff, we have been preparing for environmental education program for primary schools in BPL area, shooting videos for raising public awareness on wetland ecosystem services link to local livelihood and conservation of Sarus Crane (Please see the short video about how they make awareness videos: by our junior staff), and had a workshop regarding the impact of uses of chemical fertilizer in rice fields around the habitats of the species.
Next 3 months
For the next three months, we plan to produce leaflets, posters, T-shirts etc. for public awareness and provide instructions on how to use environmental education material to school teachers in BPL area. Environmental teaching skill training course will be also organized for at least 8 primary school teachers from BPL area.

Activities by Mlup Baitong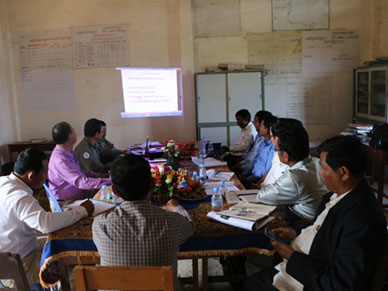 Last 3 months
Mlup Baitong has been developing and improving the environmental education materials and facilitate the experienced teachers to provide further training for new teachers. For carrying out these projects, the project set up a working group of 12 members from District of Education Officer and local teachers, Kampong Trach district, Kampot province. They often meet to discuss each contents over and over again.
Next 3 months
For the next three months, we plan to do activities such as lectures using environmental education materials at elementary schools and junior high schools on a trial basis.
Don't miss the report of our future activities in the website.