Activity Report from Bhutan Vol.09
(2019 October - December)

from Samphors, Pahhy, Vorsak, Sophana
Greeting from BirdLife Cambodia
and Mlup Baitong!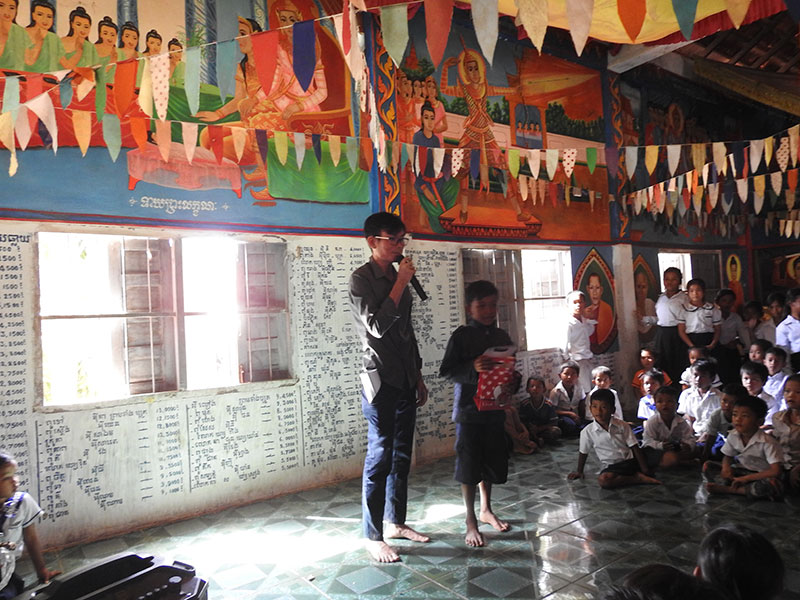 Photo of Phanny
I'm PHANNY MEY, aged 24 year-olds, from Kampong Speu province (East part of Cambodia). I completed my bachelor degree (Department Natural Recourse of Management and Development) in Royal University of Phnom Penh in 2018.During my undergraduate study, I joined several internships to obtain practical experiences rather than theoretical knowledge. I had worked with my village organization before joined BirdLife Cambodia 5 months ago.
The most impressive things that I have experienced so far is that 2 years of colleagues effort and cooperation with Mulp Baitong through the project are finally recognized by Takeo Provincial Department of Education, Youth and Sport. Even the deputy director of this provincial department has requested to expand our environmental education programme in BPL. Also, I am impressed by the Sarus Crane film show that has more than 700 participants joined in last five months.
Moreover, I have been supported by supervisor and colleague to raise my capacity related to Sarus Crane conservation. Now, I am more confident to organise awareness raising events as BirdLife Cambodia provides me some great opportunities such as Bird Festival. This completely new thing that I have never learnt before. I am grateful to work for the team, and will work hard to improve my English, knowledge on local environment and biodiversity.

Activities by BirdLife Cambodia Programme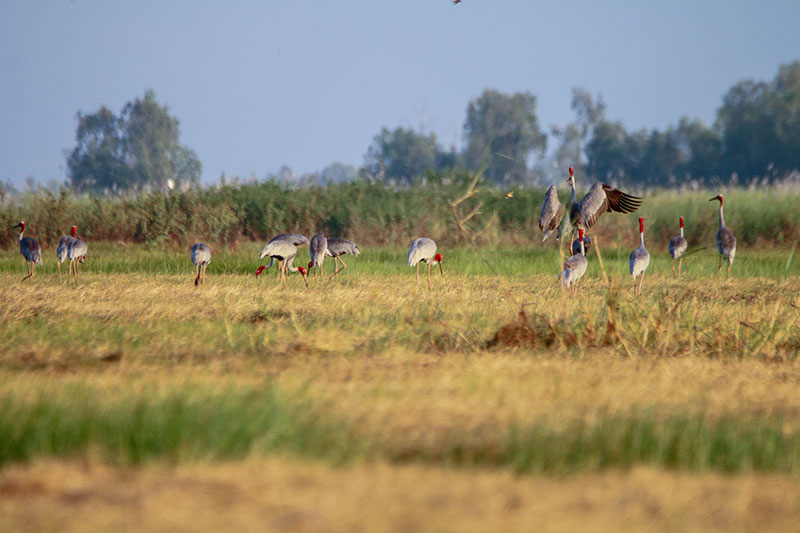 New season of Sarus Crane has just begun
Boeng Prek Lapouv (BPL) and Anlung Pring (AP) are the foraged sites of Sarus Crane during none-breeding season. Same as previous years, the Sarus Cranes has been backed to those sites for foraging in November, 2019. A maximum count of 50 individuals with 2 juvenile of the Sarus Crane have been recorded from in BPL. Two cranes arrived in AP in November, but they just came for observing the condition of the site, and flew back. In early December, the Sarus Cranes has come back to AP with a maximum count of 39 individuals including 3 juveniles.
Last three months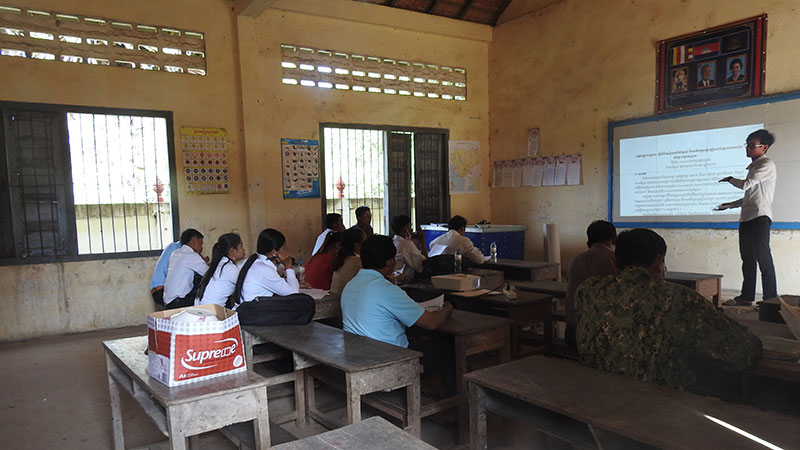 Refreshment training for teachers in BPL
■Environmental Education Programme
In early October 2019, the new staff organized meetings with supervisor and colleague to design the methods for writing a second year's report. In mid-December, a meeting with Mlup Baitong (our project partner) was organised to concrete our relationship, and share the lesson learn related to the environmental education programme, and approach to establish an eco-club in target schools. Within this report period, 75 additional environmental education books for students were printed and provided for the coming school season. A two-day refreshment training was also organized in October 2019 in BPL. Each teacher was invited to practice teaching a class, and was evaluated by school principle, other teachers and project staff.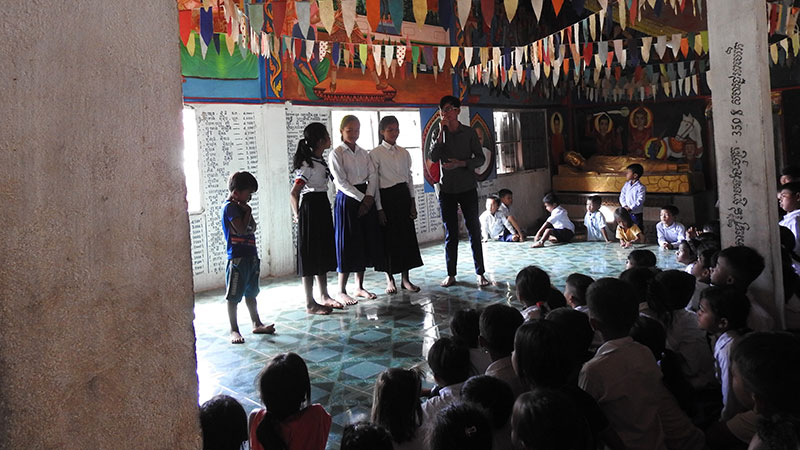 A film show at one of the primary schools
■Sarus Crane Film
The village film shows were organized to enhance the support from local communities in biodiversity conservation and sustainable use of ecosystem services. In November and December 2019, we organized film show events in Keo Kampleung village, and two schools (Bantey Thaley primary school and Koh Andet primary school) around BPL. In AP, we organized in two villages (Torn Horn village and Koh Chamka village) and Koh Thnot primary school. In total 805 persons join these six educated events including village chief, local communities (woman, kids, and youth). Teachers and students were also invited to these shows. Most of them enjoyed the film and willing to answer the questions. During the events, village chiefs and teachers addressed questions related to protected area law and regulation, and to encourage their village members and students to practice the sustainable use of wetland resources.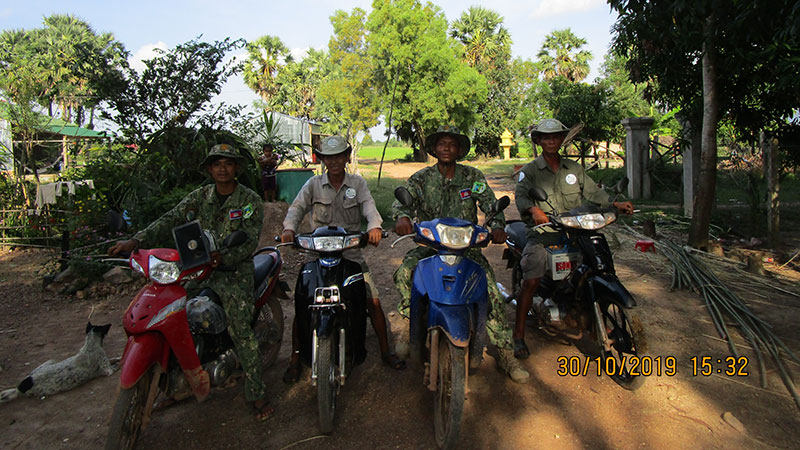 Conducting mobile broadcasting in AP
■Agriculture Hazardous Waste Management
Base on the work plan in community based agriculture hazardous waste management protocol, we continue encourage local people to collect their agriculture hazardous wastes, and store them in storage boxes. It has been done through the mobile broadcasting message that is related to negative impacts of the wastes and benefit of proper waste management. The local community team has been formed to conduct a monthly monitoring on waste storage to ensure the safety (no leaking or damaged) and check the type of wastes stored in storage boxes. According to the monitoring results, the storage boxes located next to the core area of AP received more wastes than the one located far away. It means that local people who live near the core area gain more knowledge and are happy to collaborate with us. We need to do more awareness raising activities for villages that live far from the core area. The protocol has been adapted to the region, we will install the big waste system at Kompong Trach Garbage area to store hazardous wastes instead of burning. The construction will be started in January 2020.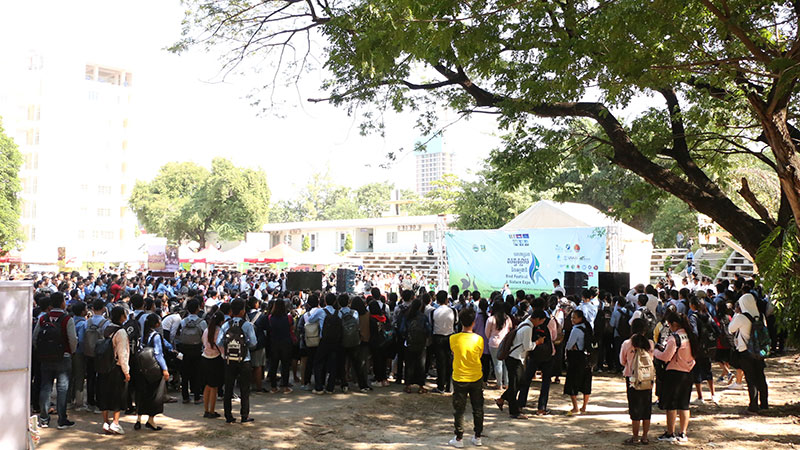 More than 2,000 people gathered at the event
■Awareness Raising Events
Capacity building of urban youth: Cambodia Bird Festival and Nature Expo was organized on 07 December 2019 at Royal University of Phnom Penh under the theme of "Bird and Nature Conservation for Us". More than 2,000 people including government, NGO, students and residents joined the event. The main objective of this event is to raise awareness on bird conservation and encourage the general public to involve in bird and nature conservation activities. We also led two key activities such as bird quiz and bird and nature photography contest. We hope that more students gain knowledge of birds and conservation.
Capacity building of young staff: In mid-October 2019, Phanny has joined a Taipei Birdwatching Fair in Gunadu Nature Park of Taipe City. He has learned how to organize public awareness raising event and development of proper management plan and engage key to apply in our wetland target site in Cambodia.
In next three months
We will produce the second year report of the environmental education programme at BPL. In addition to data have been provided by teachers, we plan to conduct interview and group discussion in first quarter of 2020 as method to collect additional information for this monitoring report writing. We are also continuously supporting and conducting on job training to teachers at both target schools in BPL. The film show will be organized at least 6 villages in BPL and AP. Construction of the new agriculture hazardous waste storage system will be completed and the wastes will be removed from 7 storage boxes to this storage system. To understand the effects of AHW management, we will conduct ground check on target area based on baseline report and record types of all the wastes in the small boxes. We will organize the post flooding giant mimosa pigra control training for university students and other stakeholders in January 2020.

Activities by Mlup Baitong
I am Rin Nao, 13 years old, from grade 6 of Phum Chres Primary School in Chress village of Boeng Sala Khang Tbong commune, Kampong Trach district, Kampot province. Over the past three years, I did not understand the environment and never study it. I and my friends were not interested in the environment and waste management. Students and school shop owners threw waste away in school as well as at home. This made the school environment polluted.
In the school year 2018-19, I attended grade 5 where I could study environment and Sarus Crane conservation education. My teacher, Suos Thavy, used environment education and the Sarus Crane conservation textbook for primary school. This textbook developed by a team of primary teachers and funded by KNCF and JEEF, Mlup Baitong. During the study, I also participated in eco-school activities (e.g. waste collection and management, community waste management campaign, school bio-gardening, tree planting, and Sarus Crane protection). Meanwhile, I told my family and neighbors about the importance of environment and waste management.
I am very happy that students and school shop owners could manage waste well, school campus looks clean, and households start thinking about the home environment as well as the community. This gave great benefit to my school and community. I am so grateful to the donor/stakeholders for all you have supported. I will work hard with other students to improve knowledge of the local environment and biodiversity.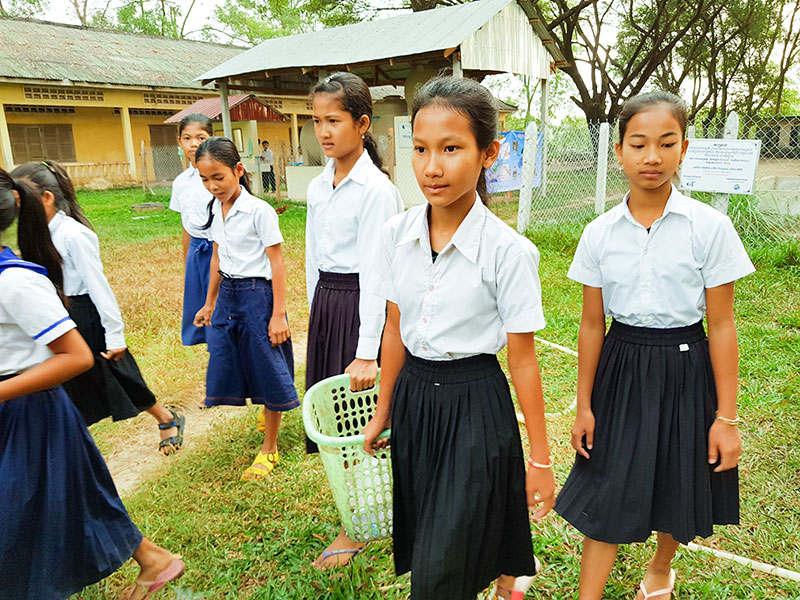 Rin Nao and classmates collect waste in school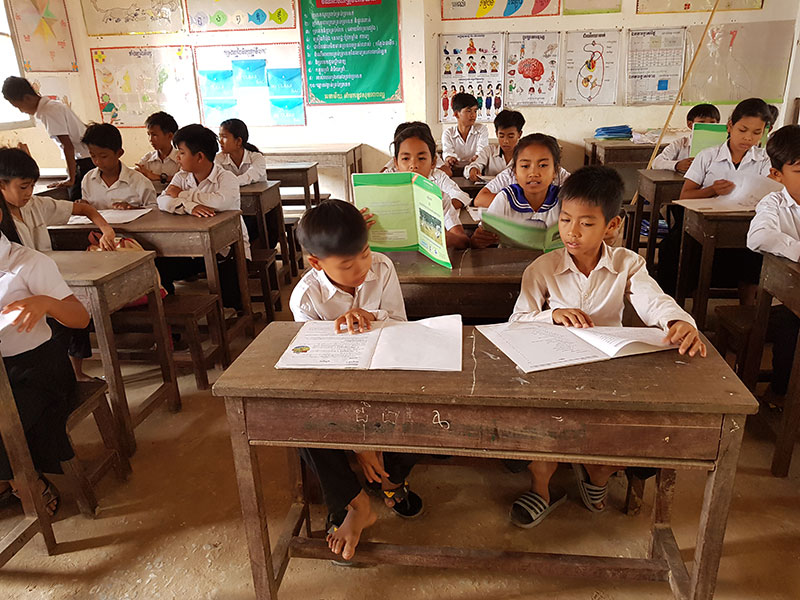 Students Studying Environment
Last three months
■Environmental Education Programme
The target schools started the new school year 2019-2020 on November 1, 2019. The field project staff member organized a meeting with ten key teachers to discuss the annual training schedule on the environment (lesson 1-10). Meanwhile, the field staff facilitated the key teachers to prepare training materials for delivering the training schedule in January 2020. In mid-November, the project staff with three target primary schools and one junior secondary school designed education banner and printed 28 sheets of education banners.
■Capacity Building of Staff
On November 6-8, 2019 Mr. Heng Hoch, SYU project staff, was trained in Outcome and Impact Orientation (OIO). He learned project planning, M&E development (including data collation, indicator interpretation, monitoring tools, use of pivot table…), and reporting. From 13 to 15 November 2019, Heng Hoch was trained in Digital Monitoring/Research Design and Use of KoBo Toolbox. He learned how to design digital questionnaires by using KoBoToolbox.
■Sarus Crane Conservation
On December 14, 2019, the project staff in cooperation with BirdLife Cambodia organized a Sarus Crane conservation video show in Anlung Thngann and Koh Trout primary schools where they are close to the Anlung Pring Landscape Protection (APLP). There were 252 students of which 126 participated in the events. They learned the Sarus Crane living in APLP, the movement of Sarus Crane, and conservation.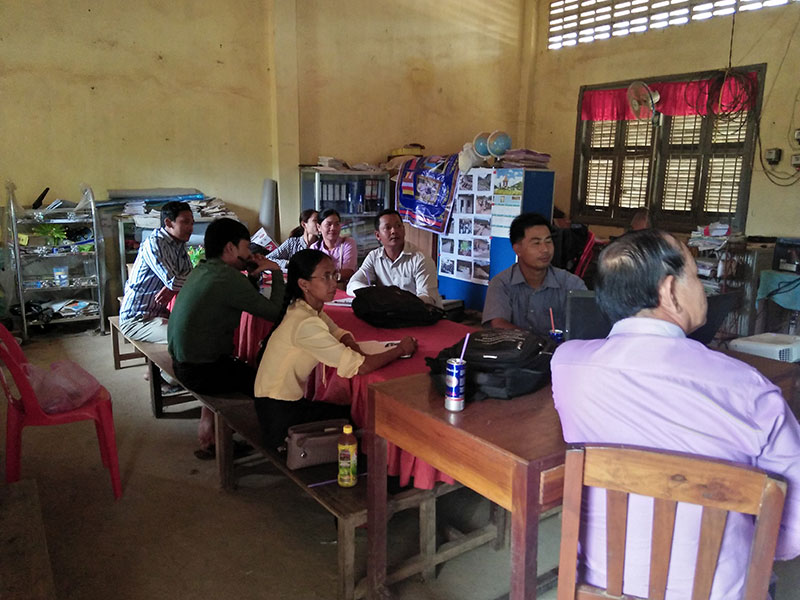 Meeting with key teachers to prepare EE training schedule for new school year 2019-2020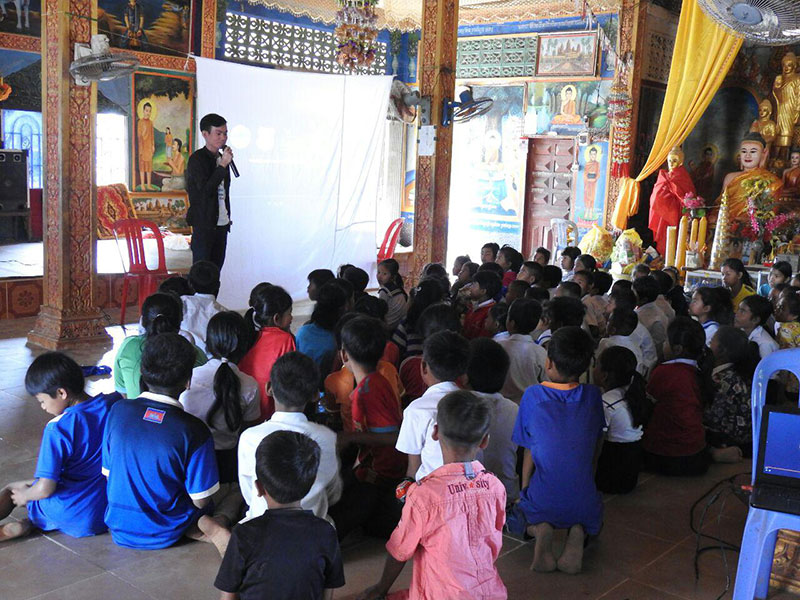 Students participated in Video Show on Sarus Crane conservation
In next three months
For the first three months 2020, we will organize a study tour for the involved students and teachers to visit Anlung Pring Landscape Protection, conduct attitude end-line surveys (student & residents) in March 2, 2020, organize environmental awareness improvement campaign (community outreach) in the target Eco-school & community (school catchment areas), facilitate the key teachers to provide trainings on environment (lesson 1 to 10) to the target students, facilitate AP conservation activities with another partners (e.g. BirdLife-Cambodia), and facilitate the target schools to improve eco-school activities and other related activities.