New Caledonia
Manta Initiative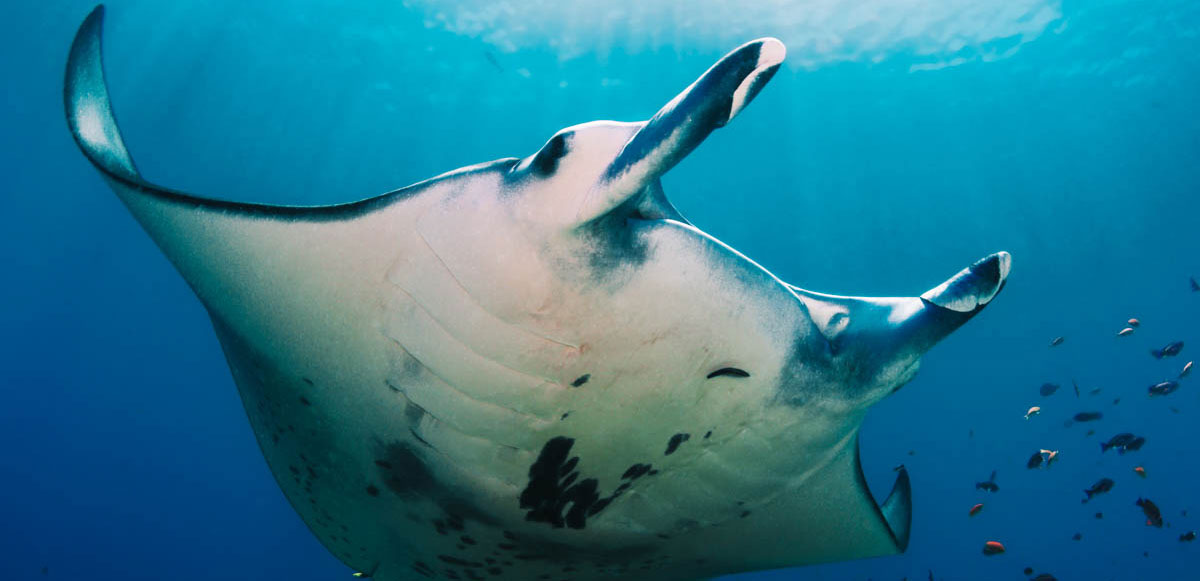 New Caledonia
Activity Reports
Vol.01 2017 October - December
Vol.02 2018 January - March
Vol.03 2018 April - June
Vol.04 2018 July - September
Vol.05 2018 October - December
Vol.06 2019 January - March
Vol.07 2019 April - June
Vol.08 2019 July - Septmber
Background
In New-Caledonia, the Manta Rays are an iconic species. More, in some localities where cultural values are still strong like Ouvea, the Manta rays are a totemic species for the Great Chiefdom of Mouli (one of the major Chiefdoms of Ouvea). Like elsewhere in this world, Manta rays are both an emblematic species and a real tourism magnet. While Manta rays are under global threat, New Caledonia offers a healthy and secure sanctuary for these vulnerable populations which we believe still to be pristine. However, the knowledge of the New Caledonia Manta ray populations, including their breeding and feeding sites and their migratory paths, remains to be discovered. These sites must be thoroughly mapped to ensure efficient management. More information is needed on Manta ray populations to understand their linkages across New Caledonia, as well as across the broader Pacific Islands region. To assess data gaps and support local conservation efforts, the New Caledonia Manta Initiative was established in 2015 by Conservation International, The Manta Trust and the Aquarium Des Lagons of New-Caledonia. This collaborative partnership initiative aims to improve collective awareness of Manta ray populations by strengthening local environmental knowledge and utilizing citizen-based and hard science, as well as supporting local site managers such as Governments, traditional leaders and local management committees as trusted advisors. Overall, the initiative will contribute to the conservation of Manta rays and their key habitats by supporting authorities in a better integration of this Iconic species in there management and frameworks and promoting best practices for ecotourism-based activities as another blue-economic model for NC.
Schedule
First year
1

-Select and train PhD Candidate(s) in charge of the project implementation including public engagement and field operations such as Photo-identification, Satellite tagging, Genetic sampling and Public talking addition to data analysis
-Train and coordinate volunteer network such as Master degree students and the Aquarium volunteers to collect and compile data on Manta Rays
-Develop the Initiative's network of dive operators to raise awareness, engage tourists in photo-identification and amplify efforts for images collection for the photo ID Database
-Form Partnerships with local associations to facilitate sites' access, build capacities for photo-identification and field operations, and increase local knowledge on Manta ecology
-Form Partnership with local collectivities (NC government and three Provinces) to ensure compliancy with existing framework and support decision-makers for further integration of Manta rays conservation in existing legislation
-Organize community meeting and participate in public events such as exhibitions, festivals and public meetings
Second year
2

-Ongoingly, train and coordinate volunteer network
-Maintain over the years the collection of photo-ID and expand the database with the contribution of citizens and dive-shops
-Ongoingly, organize community meeting and participate in public events including Manta-themed awareness during Shark Week at the Aquarium
Third year
3

-Support Assessment and Research publications for the PhD student(s)
-Ongoingly, maintain the collection of photo-ID and expand the database with the contribution of citizens and dive-shops
-Ongoingly, organize community meeting and participate in public events
Goals
-Build local science capacity to strengthen scientific understanding of Manta rays
-Improve photo ID database and scientific understanding of Mantas
-Raise awareness of Mantas through communications outreach and education activities.
Local Partners