Activity Report from Cambodia Vol.05
(2018 October - December)

from Sok Lyan , Ly Samphors , Bou Vorsak , Om Sophana
Welcome Tomomi from Japan!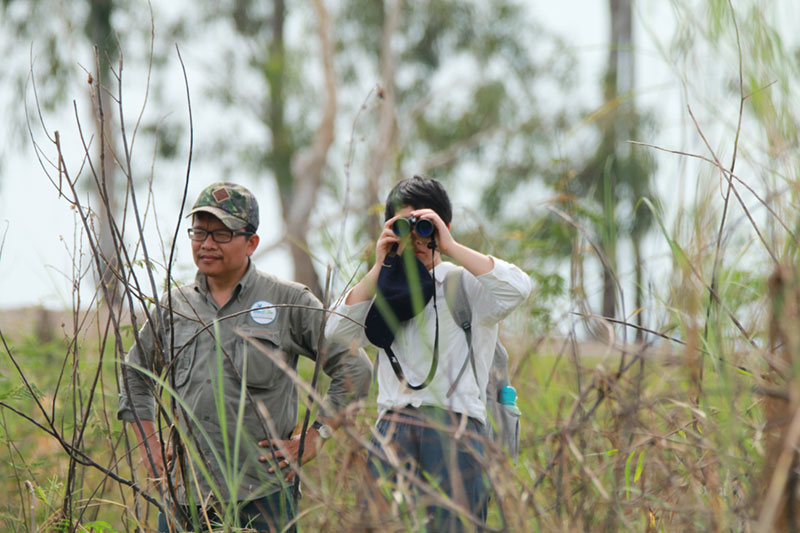 Tomomi with her mentor
A new intern Tomomi Saito has joined us since early December, as a part of the youth leadership training programme. She will be here for 3 months to assist Lyan and Samphors. Through this great opportunity, she would like to develop her survey designing, report writing, time management skills and expand knowledge of wetland ecosystems in Cambodia. Currently, she enjoys exploring Phnom Penh and project sites (AP and BPL) to learn more about Khmer culture. Please check SATO YAMA UMI Project's Instagram that she is updating!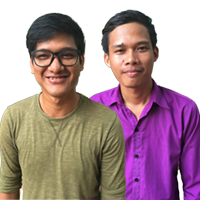 Activities by Birdlife Cambodia Programme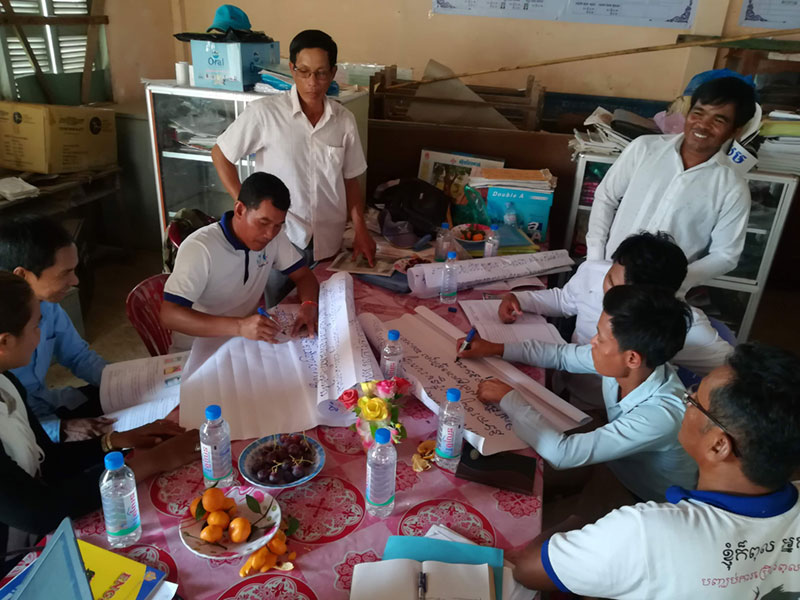 Teachers discuss about pros and cons of the first year teaching
Last 3 months
Environmental Education Program
Normally, public schools start in early November, but Kdol Chhroum and Songkum Meanchey primary school postponed its start to January 2019 due to flood. Thus, the environmental education programme will be launched in January 2019 and hope to finish all ten lessons by June 2019. Supporting materials such as pencils, erasers, color paintings, A zero papers, A4 papers and markers that requested by teachers for the programme were delivered to two targeted primary schools in Boeung Prek Lapouv (BPL). Besides, we visited Kdol Chhroum primary school to discuss the first-year teaching evaluation result with teachers at the beginning of December. A teaching refreshment training was also conducted and teachers from both schools including two new teachers looked back the result and challenge of the first year teaching.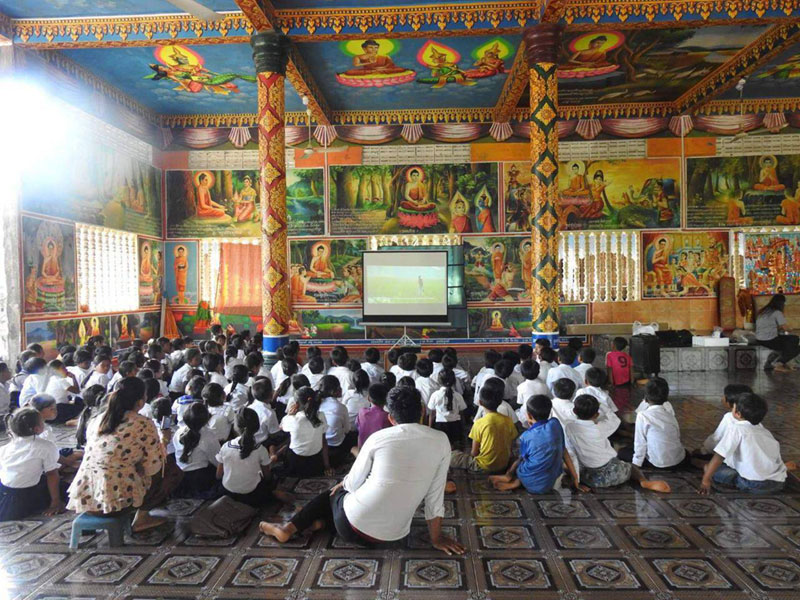 Students enjoy the Sarus Crane film
Sarus Crane Film
The Sarus Crane film aims to raise the awareness of wetland and Sarus Crane conservation in public and generate support from local communities, especially from primary school students. Students engaged in the video to win a gift (a book and Sarus Crane T-shirt) by answering questions after the film. At this time, mid November, a film show was organized at Thmor Berk Primary school, Anlung Pring (AP) with over 130 students (grade 2, 3 and 6), four teachers and a member of field monitoring team. We are trying to find ways to attract kids rather than giving prizes, and to begin with, a crane suit for presenter was made for the coming shows.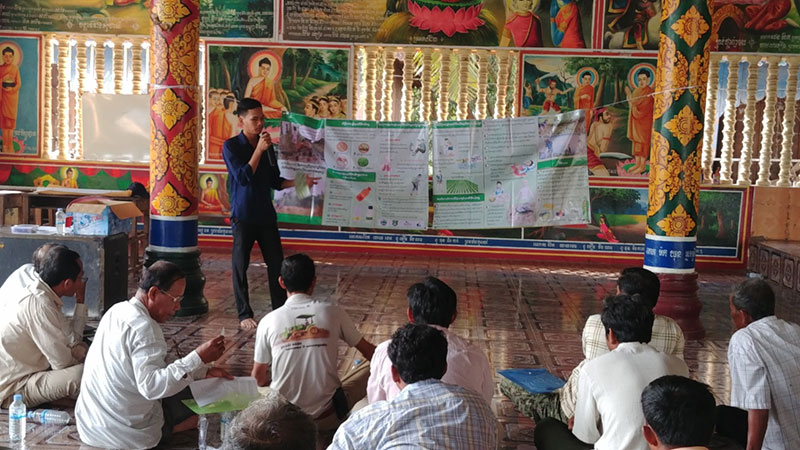 A young staff explains about the impact of
agricultural hazardous chemicals to local sprayers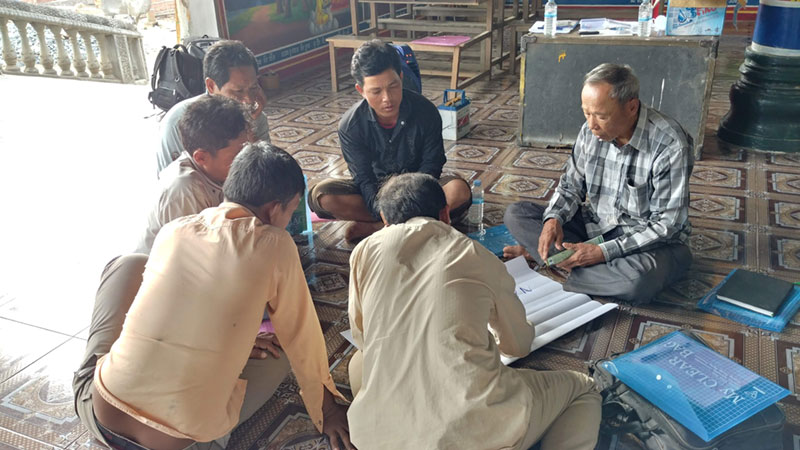 Chress Village group discussion on the current status of chemical uses
Awareness Raising Programme
Late December, we had a workshop for impact and disposal of agricultural hazardous chemicals in AP with 15 sprayers. After a facilitator explained the direct and indirect chemical impacts with posters, participants were divided into groups based on their residential area to list down their chemical types, protections, current waste disposal and health issues. Participants also shared their chemical usage on maps and seasonal calendar. To improve their disposal and raise awareness, installing extra trash boxes which are tall enough for children reach and not far from their home were requested.
Invasive Species Control
Videos demonstrate the method of Giant Mimosa Pigra removal has been uploaded on facebook and Youtube. Please have a look at the video below.
Next 3 months
In January 2018, our project team will be following up with teachers in Kdol Chhrum and Songkum Meanchey Primary school about their teaching progression. Teachers also require completing the evaluated form after each lesson. We will also invite teachers from both schools to visit primary schools in AP to exchange the teaching method and experiences. This study trip is made based on the request from teachers who want to hear lessons learned directly from the experienced teachers in AP. The Sarus Crane film shows will be organized in the local schools and communities in BPL and AP. We will invite urban students to join post flooding Giant Mimosa Pigra removal activity to control the new growing and re-growing from the old stem will be conducted in January at water management trial plot. The trash boxes will be provided to local people in AP for their agriculture hazardous waste management. A small group will be formed to collect all the waste from the trash boxes and storage to a disposal place.

Activities by Mlup Baitong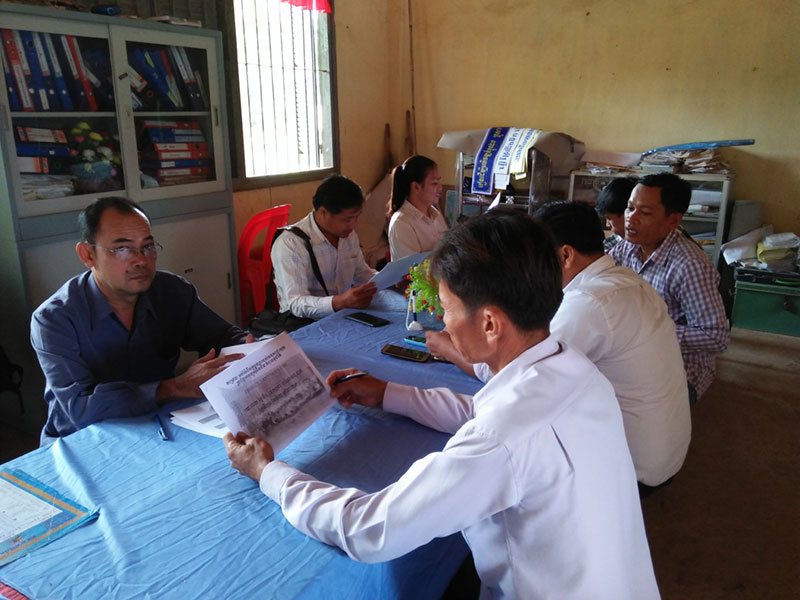 Working Group reviewed teacher's guides book at AP
Last 3 months
Environment Education Material Development
After trying out the environment education materials with junior secondary school students, the project facilitated the Working Group to finalize these training materials and teacher's guides book. The finalized training materials were also produced and submitted to JEEF & Mlup Baitong.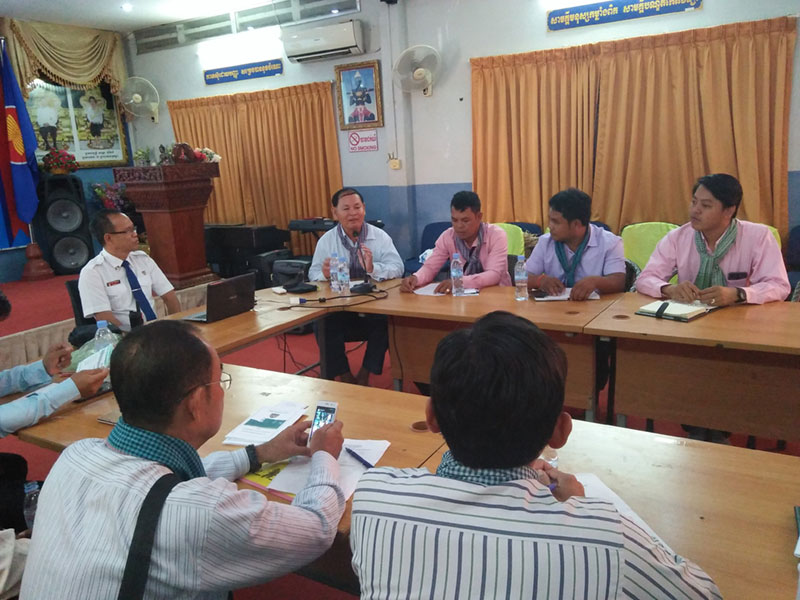 Teachers visited Eco-school in Siem Reap province
Eco-school Establishment
To improve the Eco-school (ES) in AP, the project facilitated the target school principals to conduct meetings to discuss the concept of ES establishment and review the existing environment based school development documents. The project also facilitated the principals and teachers, who taught student on environment to visit model eco-school in Siem Reap province and AP Sarus Crane conservation area. After that, the project conducted meetings to facilitate primary and secondary schools to revise their school visions and missions reflecting the environment or ES and to develop annual school environment work-plans.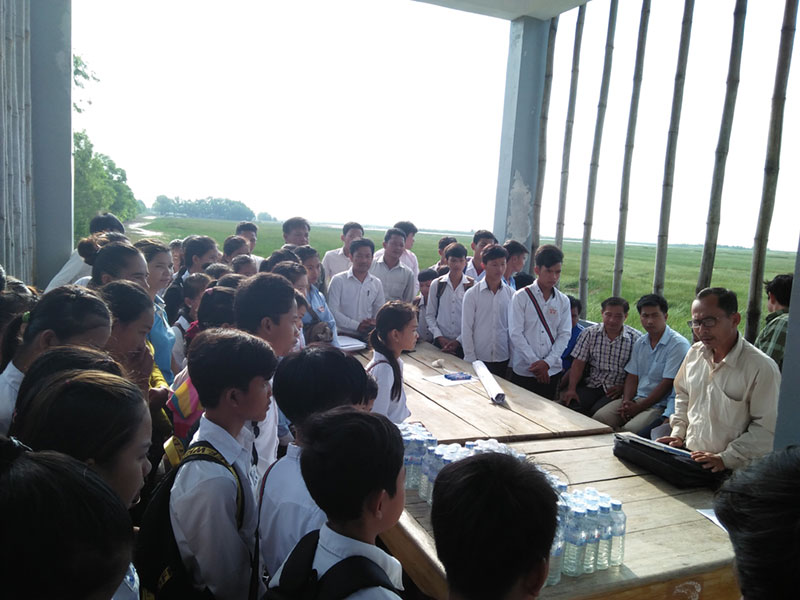 Study visit to AP conservation site①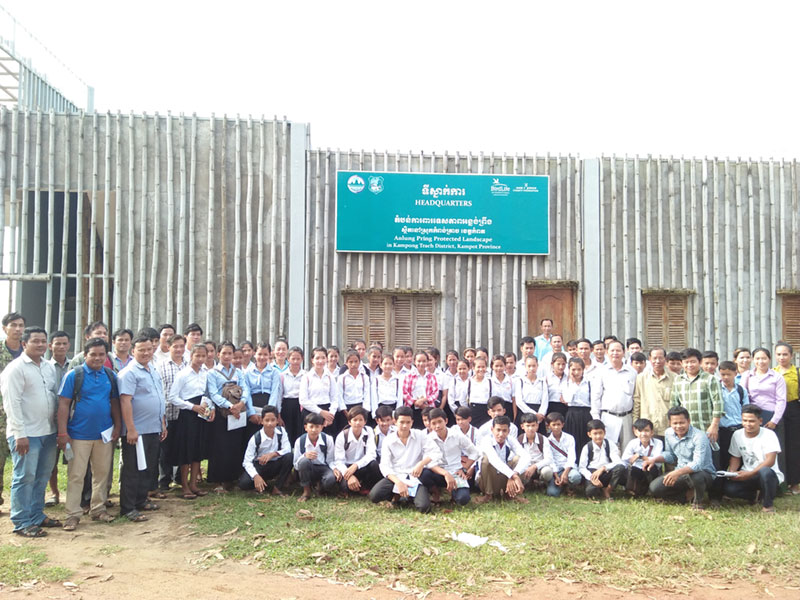 Study visit to AP conservation site②
Environment Training Program
The project facilitated two junior secondary schools to organize study visit to AP conservation site. The study visit aimed to make students/teachers understand the role of AP CBET committee and how can students involve in the conservation project. During the visit, the project organized students to meet with CBET committee to learn about the Sarus Crane and its economic interest. As well the students observed and learned about the AP eco-system/biodiversity. The project also facilitated teachers to guide students to do reflection about the study visit and observation.
Next 3 months (Jan-Mar 2019)
JEEF & Mlup Baitong will review the environment education training materials and teacher's guides that were finalized by the Working Group . After approval of the training materials, the project will select the best printing house and make contract to print these materials for junior secondary schools. The project will also facilitate the trained teachers to conduct environment training sessions for the target students. The students of junior secondary schools, who did not visit AP in 2018, meanwhile, will be invited to attend the study tour to AP conservation area. On the other hand, the project will support the target schools to improve eco-schools in conformance with the national eco-school guideline.