Activity Report from Bhutan Vol.09
(2019 October - December)

from Khachi Wangmo
Introducing RSPN project members!

Introducing RSPN project members!
◆ Khachi Wangmo (Project staff)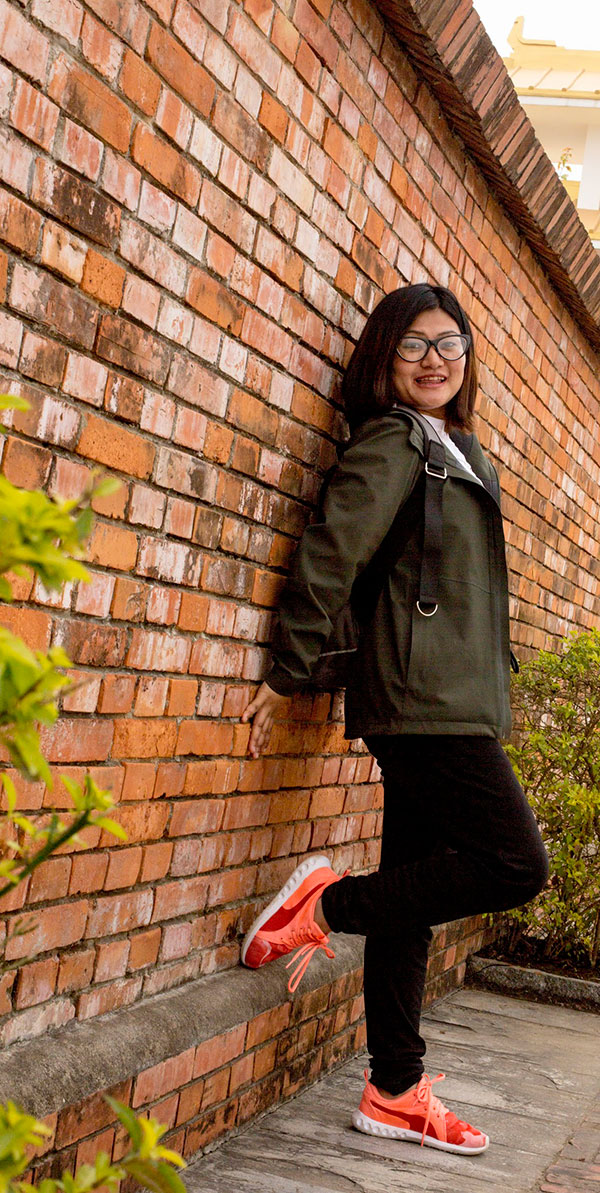 Photo of Khachi
I joined RSPN as a Project Officer in November, 2016. I took over the project in June, 2019 when former Project Officer Ms. Ugyen Choden resigned.
I always want to and have a determination to learn new things which add value in my life. My interest is not about project management and implementation, but through the project I gained much interest about learning with and from my colleagues, local communities and other stakeholders. Having served as project officer of the project, I am proud of project achievements in approach of environment education and public awareness in Gangtey-Phobjikha. The greatest success of our program is development of three educational materials for schools and teachers, and conducting environmental education programme.
My dream is to fulfil my parent's desire and her desire. I cherish every moments of life be it good or bad. My hobby is to collect currencies of different countries. I spend most of my leisure time and weekends with my one and half year son.
◆ Santa Lal Gajmer (Centre Manager, Black-necked Crane Visitor Information Centre)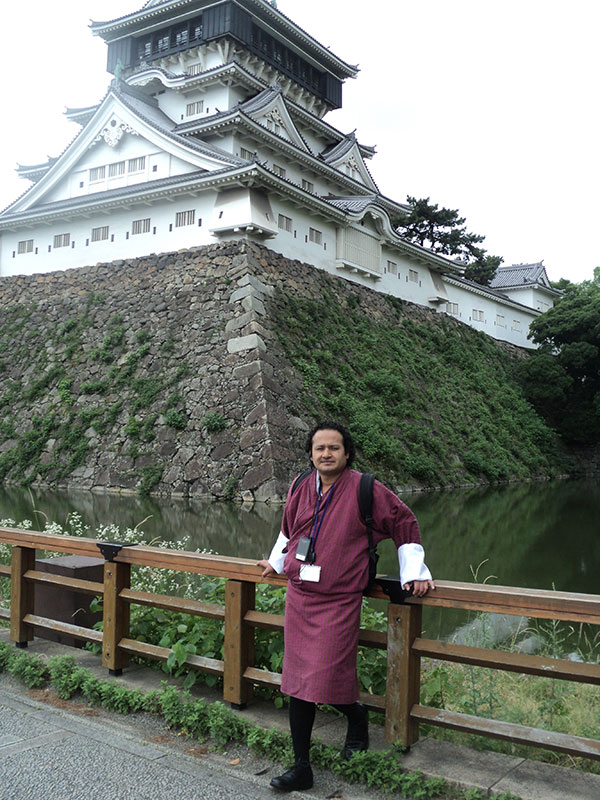 Photo of Santa
I joined RSPN in 2012 as Centre Manager, Black-necked Crane Visitor Information Centre in Gangtey. I look after the overall coordination and management of the centre.
I look after injured crane Karma since 2016 where he has a strong connection with injured crane. I am a passionate about Black-necked Crane conservation and assisted the project team in implementing the field activities in the valley.
I like to balance professional and family life. Professional life gives you exposure, confidence and sense of achievement. I love eating rice and love cooking too. My favourite pastime is to watch movies, chatting with friends and going trip with my families. I spend most of my weekends at centre only as it is open every day. I do watch birds, interact with people and do my office works. Through the project I am more interested in conservation on environment, wetland conservation and Black-necked crane conservation.
◆ Tashi Phuntsho (Chief of Communications and Membership Division)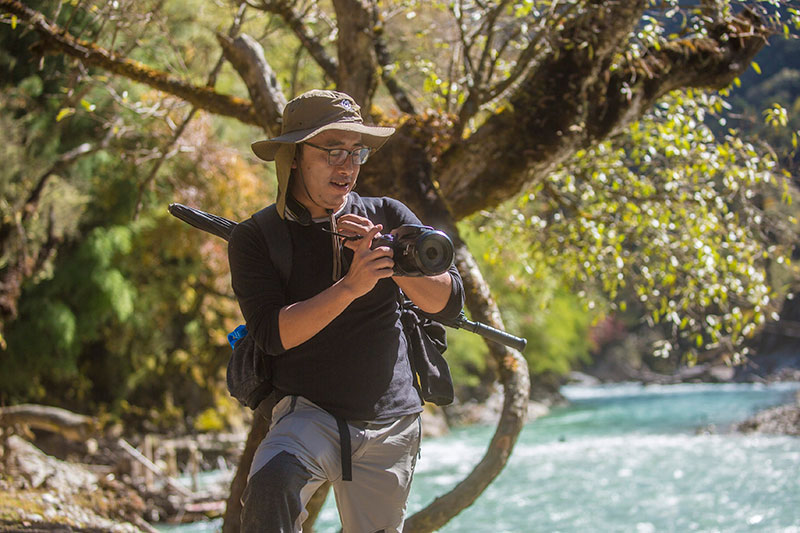 Photo of Tashi
I have over 14 years of experience in media and communications.
I also served as the Assistant Registrar at the Royal Thimphu College prior to joining RSPN in 2016. For the project', I made significant contributions as the mentor and supervisor to the project officer.
I am an avid reader and writer. Recently, I have taken the hobby of bird watching and spend most weekends with my four year old son birding in the forests.

Our Last Three Months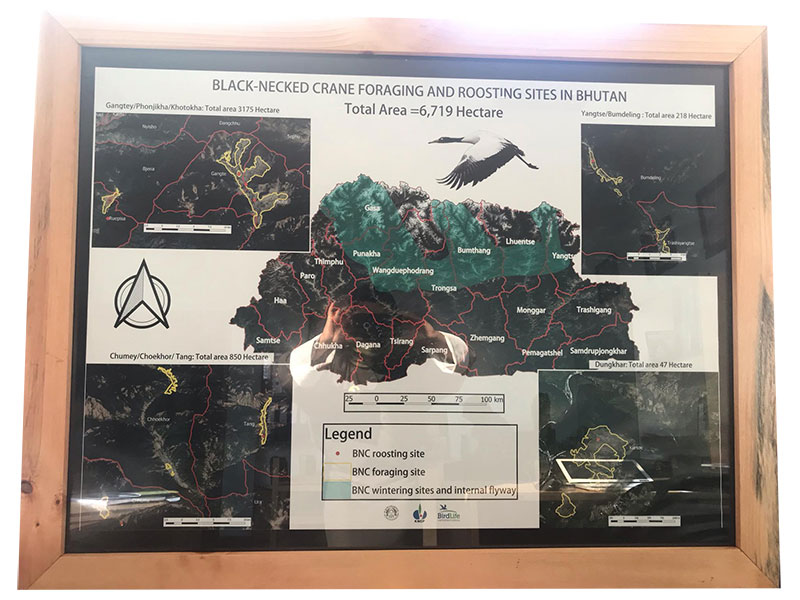 Students wore T-shits with conservation message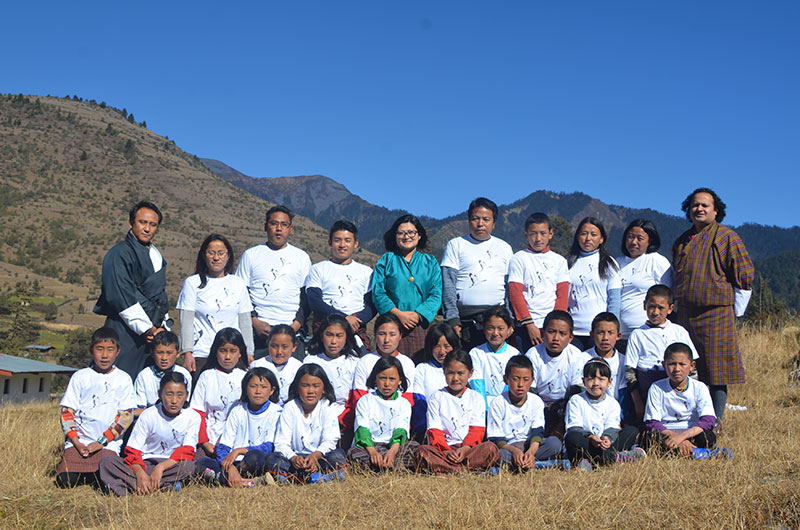 Completed map showing habitats and migratory routes of Black-necked Crane.
◆ Awareness Raising Programme
300 T-shirts with a conservation messages on wetlands and Black-necked Cranes were produced and distributed to schools and relevant stakeholders. Maps showing the crane habitat and migratory routes were produced, and one of them has been displayed at the visitor, and the other map is going to use for the Black-necked Cranes awareness program in crane habitats. Also, the information panels were printed and displayed at the visitor centre for visitor to understand the Cranes and their habitat.
◆ Environmental Education Programme
■ Environmental Education Program at Shari Higher Secondary School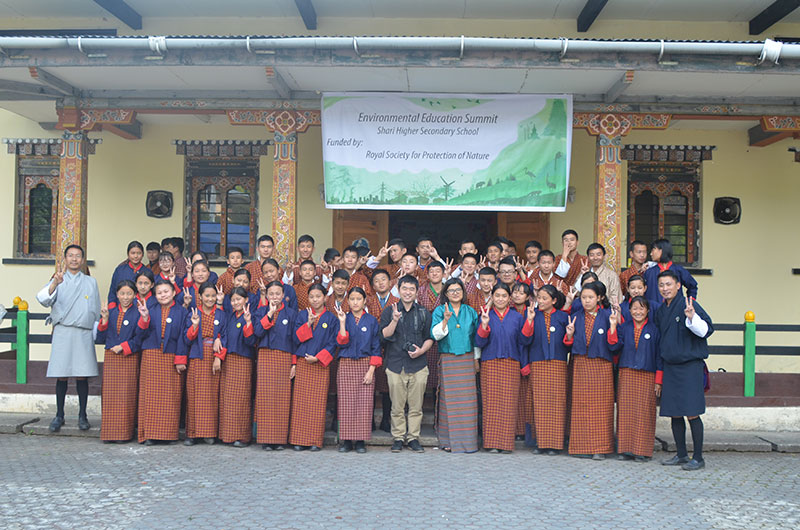 The participants of Shari Higher Secondary School
The Royal Society for Protection of Nature (RSPN) in collaboration with Shari Higher Secondary School (SHSS), Paro, organized Environmental Education Program at MPH, SHSS in Paro on October 9, 2019 where more than 200 students participated in the event.
The students presented a drama on how to manage waste and how to create awareness through social media. Mr. Hiromasa Yamaguchi, Coordinator from Japan Environmental Education Forum (JEEF) did a presentation on how long the particular waste takes to decompose.
A quiz competition was also organized on Environmental Education theme and also students showcased their talents through exhibition on various themes.
After the event, two batches from 11 Arts and 11 Science were taken to the stream which was adopted by SHSS and conducted stream flow activity. The students were asked to identity the stream type and sampling method. They were also asked to note the macroinvertebrates observed in the particular stream and through observation, students found out the water quality of the particular stream.
■ Use of Environmental Education materials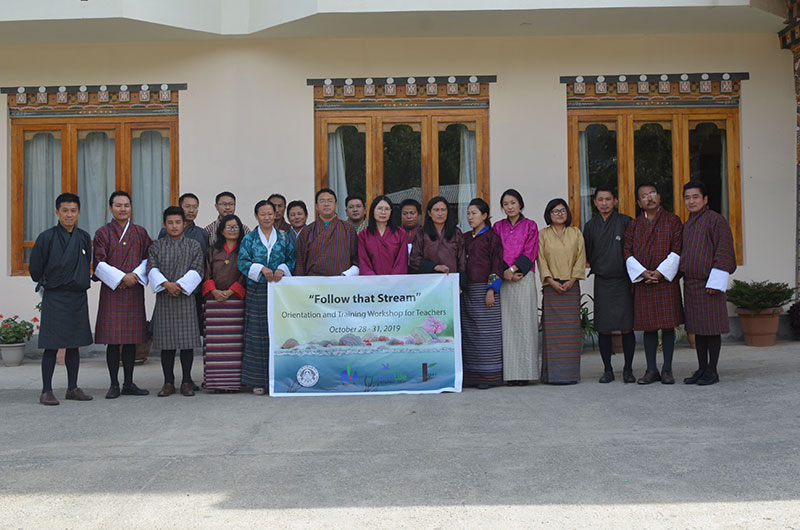 The participants of orientation and training workshop
for teachers on "Follow that Stream" handbook
We did a workshop using one of the environmental education material which we produced, called "Follow That Stream" from October 28th to 31st, 2019, for teachers.
The purpose of this workshop was to familiarize the teachers on the handbook and conducting projects on water quality and pollution, to gain knowledge and skill through practical experiences in guiding children to carry out project works, and to build capacity of teacher as trainers to share ideas to other teachers back at school.
Mr. Surjay Lepcha, a consultant who developed the 2nd Edition of "Follow that Stream" handbook was hired as a resource person to conduct the workshop.
18 school teachers who teaches Environmental Studies/looks after Nature Clubs from Paro, Thimphu, Bumthang and Wangdue participated in the 4 days Orientation and Training workshop for teachers. In addition, Center Manager of Black-necked Crane Visitor Center (BNCVC) was trained to disseminate RSPN's effort in conservation through BNCVC. During the workshop, teachers were trained on how to use the education materials.
■ Conduct of "Know the stream" activity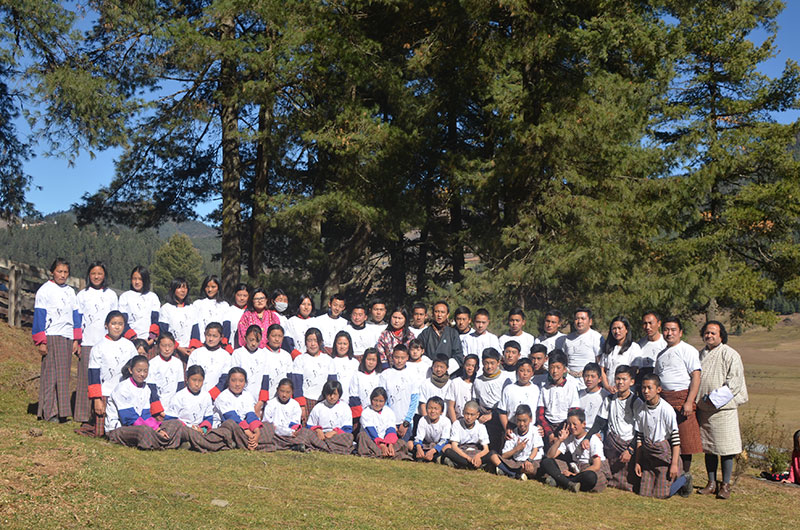 Participants of Phobjikha Central School and Bayta Pry School
RSPN conducted the environmental education activities with the Nature Club and Environmental Studies students from Rameychen Primary School on November 27 and with Bayta Primary School and Phobjikha Central School on November 27-28, 2019.
The 2-day event focused on waste management, Black-necked Crane behavior, and origami and also carried out the project experiments from "How safe is your drinking water?". All the activities were from the RSPN publications titled, "Follow that Stream", "The Environmental Education Guide book" and "Smart Living Tips".
On November 27, "Know your stream" activity was conducted at Rameychen Primary School, Phobjikha. 19 students from nature club along with club coordinator and principal participated in the one-day event. In the afternoon, students were engaged in "How safe is the drinking water?" activity where we experimented with 4 samples (tap water, mineral water, stream water and water source).
On November 28, the same activity as mentioned above was conducted at BNCVC with nature club and environmental studies students of Bayta Primary School and Phobjikha Central School.
■ "Welcome to Bird Study Tour" involving Nature Club Students.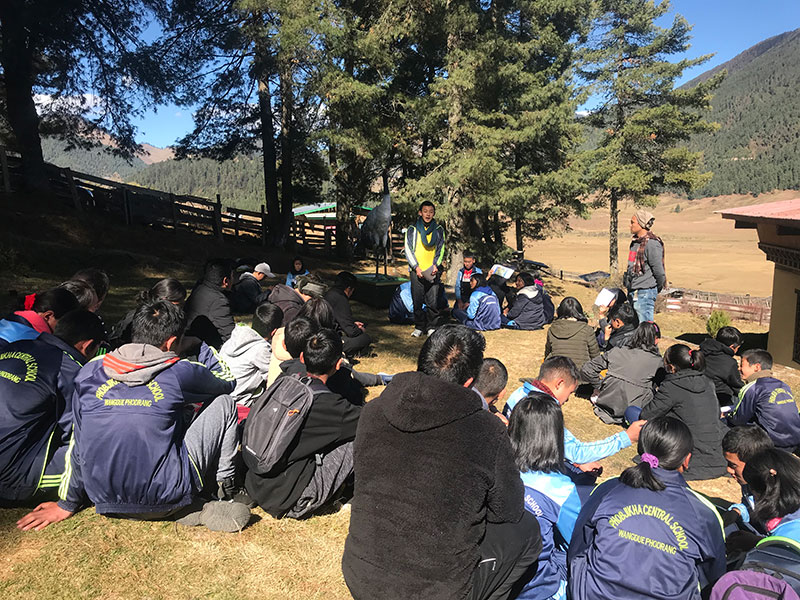 Participants reporting the birds sighted
After the "Know the stream activity" on November 27-28, the students partook in "Welcome to Bird Study Tour" activity at Pelela. During the bird watching tour, students were taught the basics of birding like how to identify the birds, parts of birds etc. More than 15 birds were recorded by students on that day.

Our Next Three Months
◆ Awareness Raising Programme
We will develop an interactive photo booth to convey conservation messages to variety of stakeholders. A stand-up banners of crane behaviour will be made and displayed at the visitor centre. Also, shelves for displaying the souvenirs and awareness raising materials will be set at the visitor centre. Procurement of shelves to display souvenirs at the BNCVC
◆ Environmental Education Programme
We will distribute the environmental education materials to schools.