Activity Report from Bhutan Vol.08
(2019 July - September)

from Khachi Wangmo
Happy home for Crane Karma!

RSPN built a "Happy Home for Crane Karma"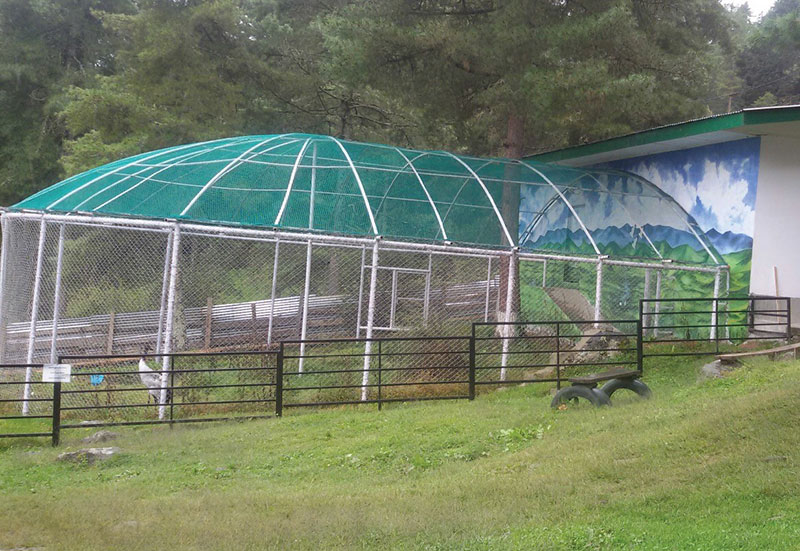 Crane Karma in his new home
Crane Karma has a new home now! The construction of the aviary began at the end of 2018 and completed in August 2019. The inauguration ceremony was held on 26th September 2019, and was attended by local leaders, communities and RSPN staff. It was graced by the venerable Kolay Trulku, head lama of Khewang Lhakhang.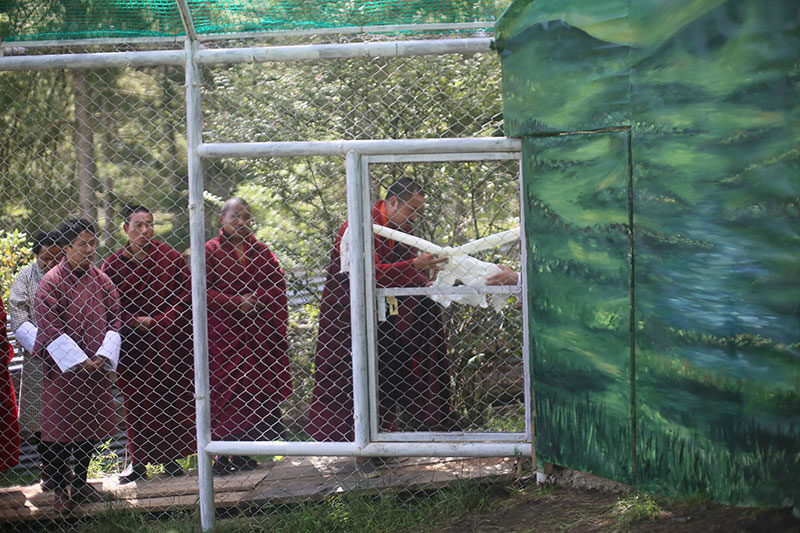 Inauguration
The aviary has a mural painting of Cranes' summer habitat, the landscape of the Tibetan Autonomous Region along with a dark room built within the aviary for Karma to rest. A rehabilitation facility is also constructed alongside the aviary. The facility will be equipped with necessary medical supplies and designated dark room and first-aid room, mainly to cater to new injuries of Black-necked Cranes in the valley. On 10th September 2019, with the assistance of officials from the Rescue and Rehab Centre under the Nature Conservation Division in Taba and the staff of the Black-necked Crane Visitor Centre (BNCVC) moved Crane Karma to the new aviary. A quick health checkup of Karma was carried out before he moved to the new home.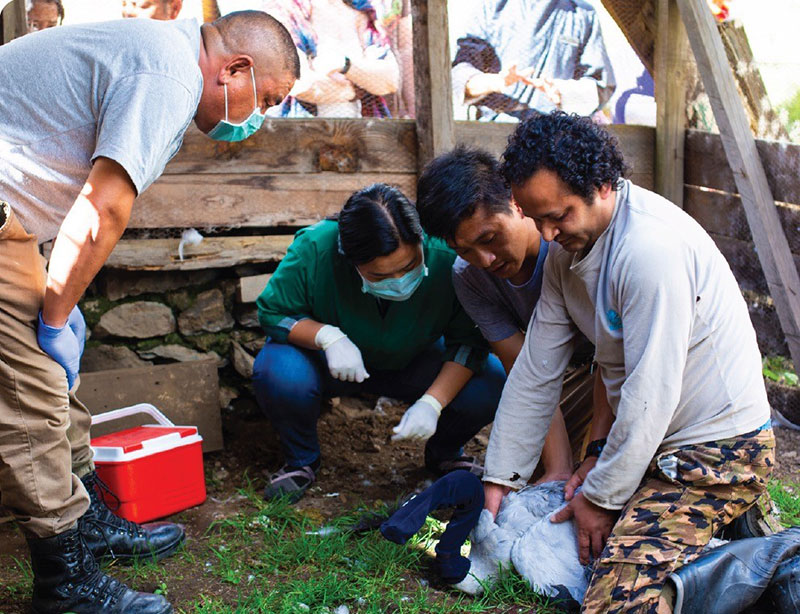 Karma gets a health check
While being reared in captivity for three years, the Crane Karma's gender was a mystery. Earlier, a team of Japanese experts had taken feather samples of Karma to solve this mystery. Karma is a male! RSPN extends deep appreciation for the support rendered by the Japanese team.

Our Last Three Months
Awareness raising Programme
■Materials
A documentary "Echoes of the Wetland" was finalized. The video was screened during the environmental education programme at Gangtey-Phobjikha in late August, 2019.
We have developed 3 awareness raising materials including a brochure explains wetland and its benefits to community, an illustrated poster describes benefits of wetland to community, and pull-out banner to show adult and juvenile Black-necked Crane. Those materials were distributed to community of Gangtey-Phobjikha during the awareness raising events. These materials are now also available at the visitor centre.
T-shirt with conservation message on "Save Wetlands and Black-necked Cranes" was designed and sent for production. Map of the crane habitats and movement was finalized for printing. The content of information panel to be displayed at the visitor centre was reviewed by RSPN publication team and finalized for printing.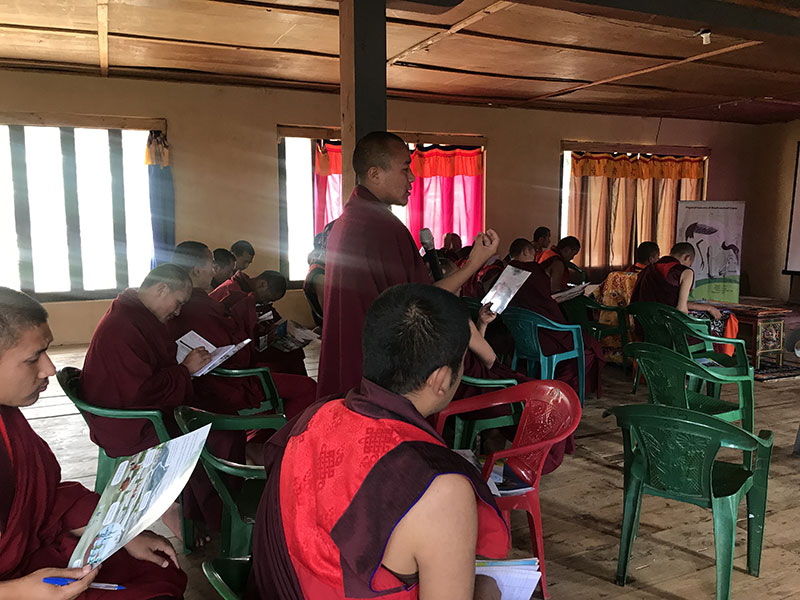 Monks of Gangtey Buddhist Shedra attended the workshop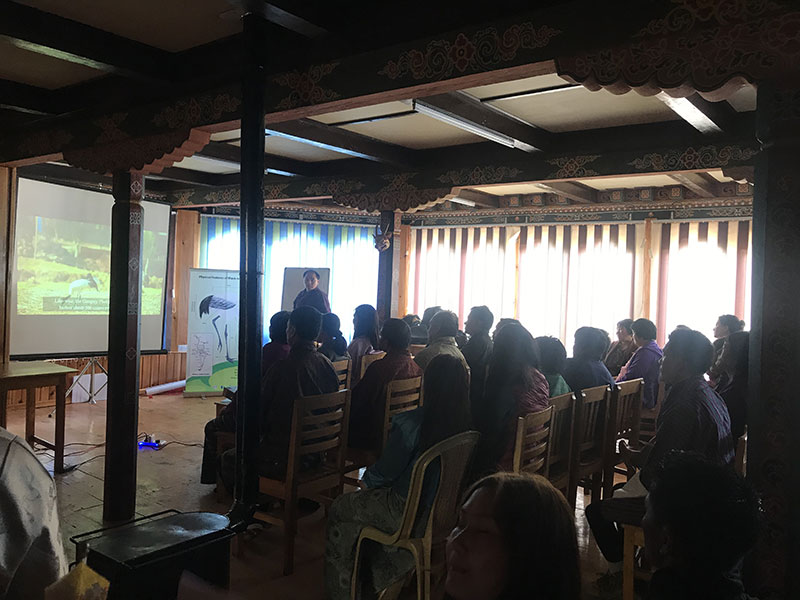 Local community and business representatives attended the workshop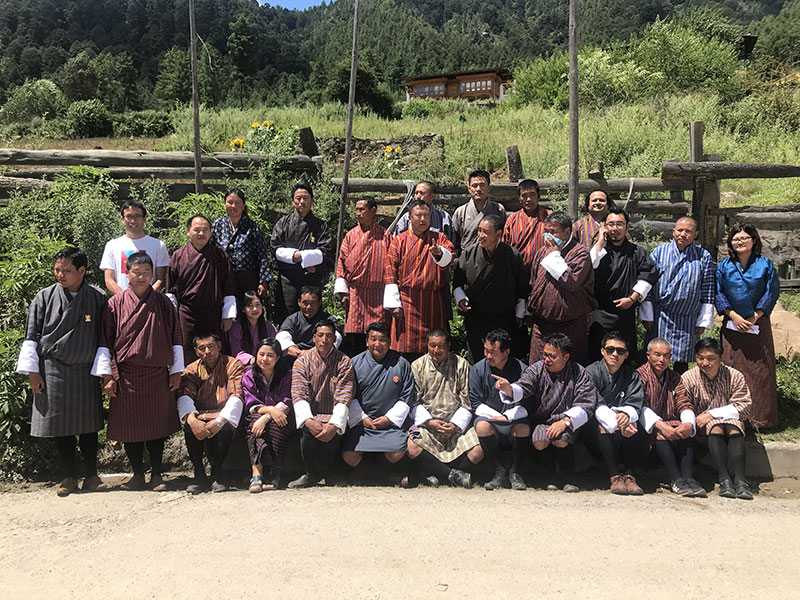 Local Government leaders and sector heads attended the workshop
■Events
From 20th August, 2019, awareness workshop was conducted for religious bodies, local communities, business communities, and local government leaders and sector heads in Gangtey-Phobjikha. The main objective of the workshop is to promote awareness on environmental issues and to ensure environmentally responsible behavior through this event. 37 monks and 1 head monk, 30 local community members and 21 businessman, and 29 governors from Gangtey-Phobjikha participated it in each day.
Talk show was organized on mid-August at the Black-necked Cranes Visitor Information Center (BNCVC). It is focused on the wetland conservation, crane habitats and migratory routes, community-based sustainable livelihoods and other initiatives in Gangtey-Phobjikha.
Environmental Education Programme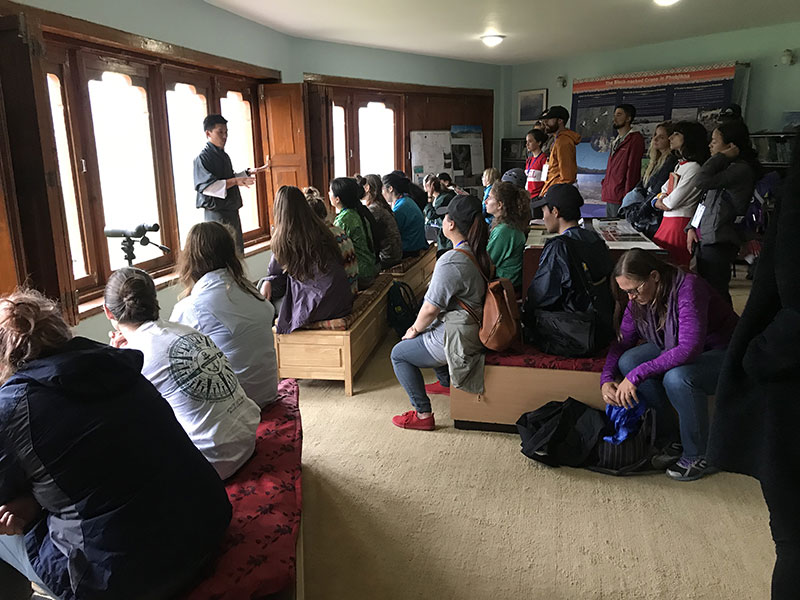 RSPN reaching to international youths
"Environmental Education Guide Book" and "Follow That Stream" was reviewed by RSPN Publication Team and finalized for printing. "Smart Living Tips" is finalized with content and outsourced for designing with illustrated pictures. Conducted a meeting with teachers of Gangtey-Phobjikha and decided to conduct the workshop to use the education kit in last week of October, 2019. 26 students from the American University of UC Davis who were on an exchange program with Royal Thimphu College (RTC) along with two professors, two RTC officers and four interns participated in the program on August 20, 2019. The participants enjoyed a documentary about the Black-necked Cranes and its conservation, followed by the observing the exhibits at the center.

Our Next Three Months
Awareness raising Programme
T-shirts with a conservation messages will be produced and distributed to relevant stakeholders. Maps of crane habitat and migratory routes will be printed. The information panel will be printed and displayed at the visitor centre.
Environmental Education Programme
All the books titled "Environmental Education Guide Book", "Follow That Stream" and "Smart Living Tips" will be printed. A workshop will be conducted for teachers of three local school to use the education kit and film for educating their local students. A workshop will be organized in last week of October, 2019. Know the stream activity will be organized in one of the schools involving Nature Club members. "Welcome to Bird Study Tour" will be conducted involving Nature Club Students. Procured water testing equipment's will be handed over to respective schools.