Activity Report from Bhutan Vol.05
(2018 October - December)

from Ugyen Choden
The most important celebration
in the western Bhutanese culture "Lomba"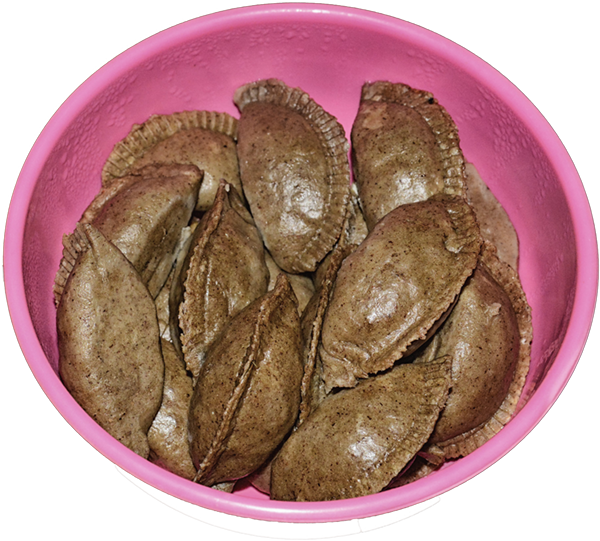 Lomba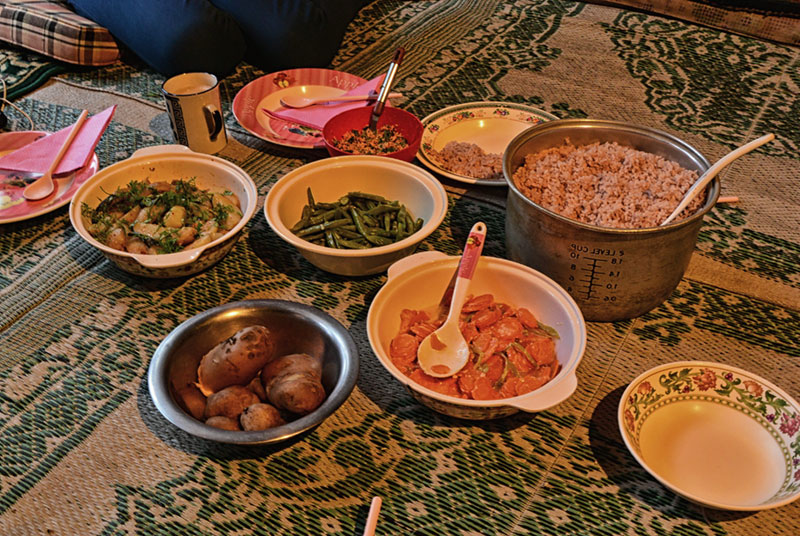 Bhutanese enjoy traditional food during the celebration
For the two western Dzongkhags of Bhutan – Paro and Haa – every year the 29th day of the 11th month of the Bhutanese calendar (December 2018) marks a special day. It is Lomba, the most important celebration in their region.
Lomba is also celebrated as their New Year, therefore families and friends gather, feast, play games and perform small ceremonies to drive out the evil and bring health, happiness and prosperity for the New Year into their house.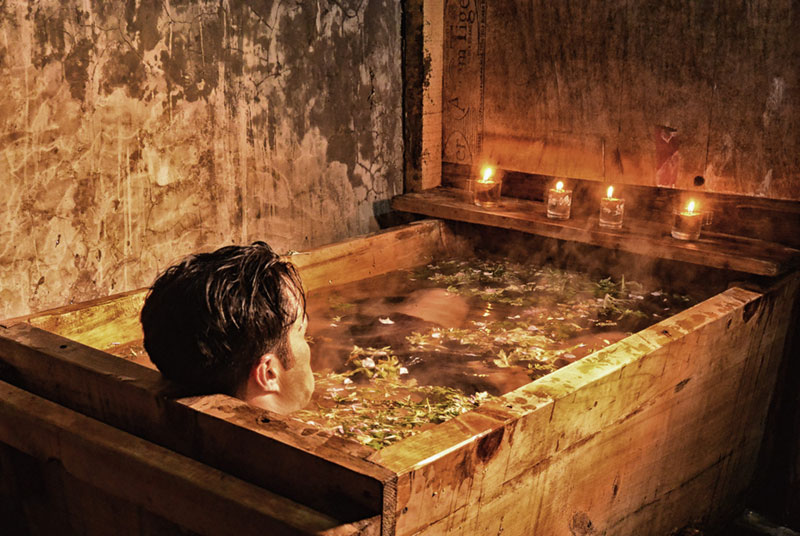 Hot stone bath
It is also a common birthday for Haaps and Parops, after the celebration, everyone considers themselves a year older. Babies born just before Lomba even turn 2 years old afterwards as the 9 months they've spent in their mother's womb are also counted in as a year as well.
In the past, Lomba was also significant for its cleaning tradition. Families would clean every corner of their house, wash every piece of cloth, and every member would take a menchu (hot stone bath). Nowadays these activities are daily chores, however the annual cleaning tradition is still practised by Haaps and Parops before the celebration.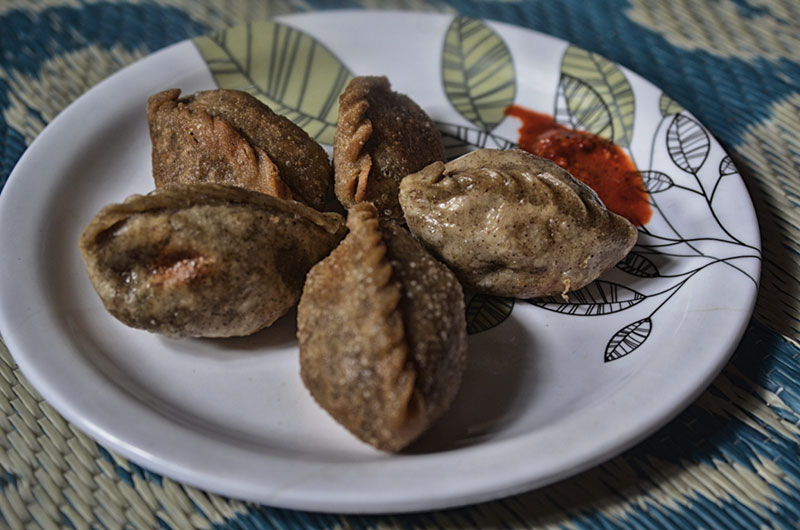 A Bhutanese delicacy "Hoentey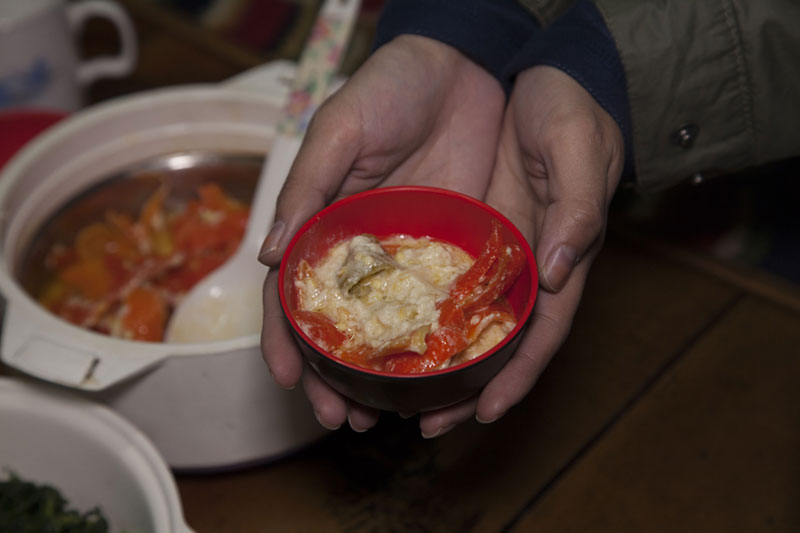 "Ema datshi" made from chillies and cheese
As Lomba is an auspicious day, food plays a vital role. In Haa, families prepare their local delicacy Hoentey. Hoentey is a kind of dumpling made from buckwheat and filled with butter fried dry turnip leaves, chili powder, pepper, perilla seeds and cheese. Families makes enough Hoentey to gift their relatives and friends living in other parts of the country, for the children in the village it is their tradition to go from door to door and sing Lolay (greetings for the year), wishing a good year to the house owners and their families. They carry a long stick with a basket hanging from one end, asking for Hoentey in return before they move on to the next house.
For many Parops and Haaps living in other parts of the country, Lomba is a holiday. They return home to their families and celebrate their New Year together.

Our Last Three Months
Environmental education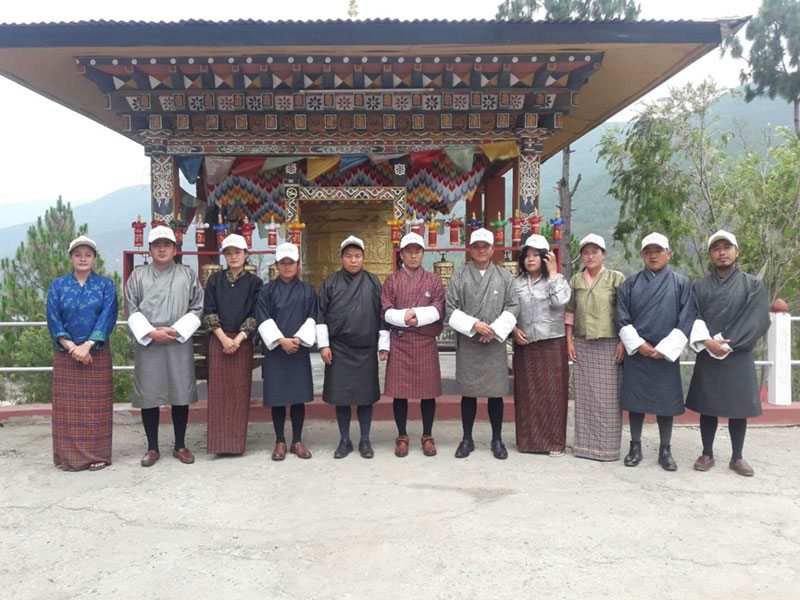 Members attended the 2nd consultative meeting in Punakha (early June 2018)
We hold the 2nd consultative meeting with teachers to get the usability aspects of the environmental education reference materials in Punakha, in early June 2018. Following the meeting, we have outsourced the development of "Follow that Stream" book to a private company and currently we are reviewing the content of the document. Moreover, we have developed the first draft of Environmental Education Guidebook and Smart Living Tips, and they are now being proofread by Communications Division of RSPN.
Awareness raising
Since the former ICT officer at RSPN has resigned, the remaining task has been outsourced to a private company and the film will be finished by mid-January, 2019. Development and printing of Field Guide of Black-necked Crane behaviour was completed, we have 500 copies ready for local people. Final Draft of poster on anatomy of adult Black-necked Crane and pictorial leaflets on the association of the Crane with the wetlands and the community were completed. However, we will be presenting the same for endorsement of the Management team at RSPN in January 2019. We have decided to produce a T-shirt with environmental message as an awareness raising goods. We have assessed the existing exhibits in the visitor centre and we are currently developing the contents of information panel to be displayed at the centre.

Our Next Three Months
Environmental education
• In January 2019 the first draft presentation on the "Follow that Stream" handbook and consultative meeting with environmental science, science and nature club teachers of Phobjikha, Paro and Thimphu. The workshop will be conducted in Punakha to review the content, and get their comments and feedback. After the consultation meeting, consultant will incorporate comments and feedback and the second and final draft will be presentation to the Publication Review Committee of RSPN for endorsement.
• By end of March, all the environmental education reference materials will be printed.
Awareness raising program
• By mid of January 2019, the video documentary will be completed and it will be presented to the Publication Review Committee of RSPN for endorsement.
• We will be able to print the leaflets and posters for BNC anatomy and association of BNC with wetland and communities by Feb. 2019. Around that time we are also going to produce T-shirt with environmental message.
• End of March, we will be visiting Gantey-Phobjikha to conduct awareness workshop to the local government, schools and monastic bodies on the co-existence between the BNC, wetlands and the community.