Activity Report from Bhutan Vol.04
(2018 July - September)

from Ugyen Choden
Preparing for welcoming
the heavenly birds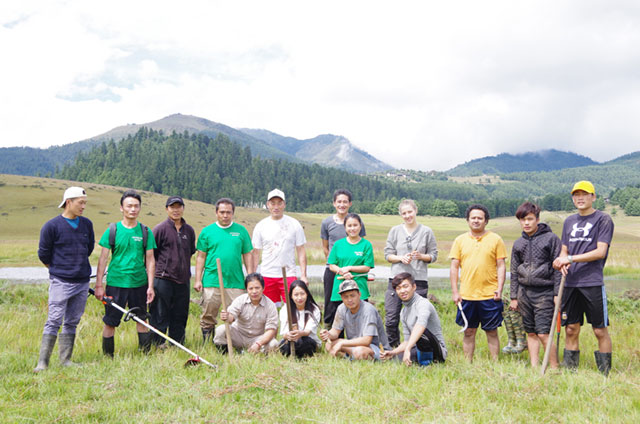 Participants of the roost maintenance program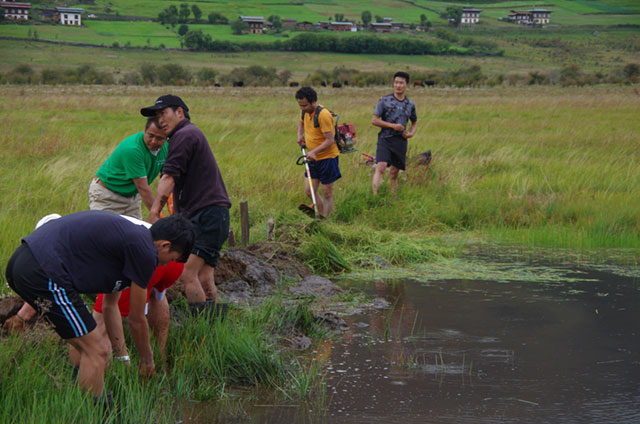 Piling stags of mud to control the water
from the flowing out of the pond
Gantey-Phobji wetland is the largest wintering habitat for the Black-necked Cranes in Bhutan. The valley greets more than 400 Black-necked Cranes every winter. They will spend about five months in the valley before they return to their breeding habitat in China. The local people of Gangtay and Phobjikha belief that the arrival of the crane bring joy among the people.
To welcome the Black-necked Cranes, RSPN organises "Black-necked Crane roost maintenance program" by collaborating with other stakeholders every year. This is an important program to protect the wintering habitat for the Cranes. This year, Sato Yama Umi team with other RSPN staff and volunteers from Amankora resorts and Gangtay Lodge based in Phobjikha valley, participated a one-day Black-necked Crane roost maintenance program. During the event participants collected waste, cleared and widen the existing roosting pond owing to increasing numbers of the cranes every winter.

Our Last Three Months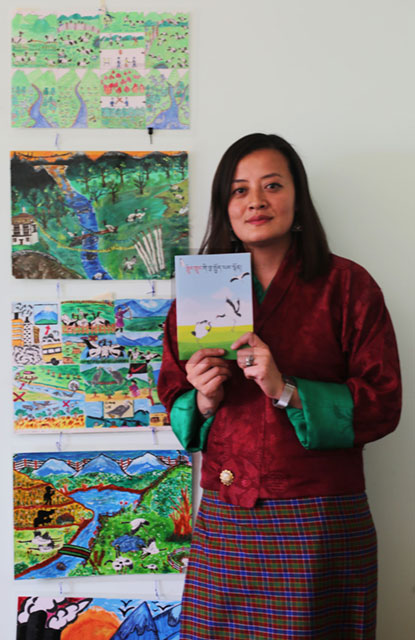 Field guide book in Dzongkha is ready!
We have finished editing the video clip to develop a short documentary on co-existence of wetland, the Black-necked Cranes and the community of Gangtay and Phobjikha. We have printed 500 copies of the field guide book. The information board for the Black-necked Crane Visitor Centre becomes outdated, thus we have decided to update the information on the board. We also have completed the final draft of the leaflet on livelihoods and wetland ecosystem services.

Our Next Three Months
We will develop more of educational and awareness materials such as the environmental education guide book which follows the stream and smart living tips. The information board at the Black-necked Crane Visitor Centre will be made.